---
POST GROWTH (EXHIBITION STATEMENT)
What ideological, social and biophysical factors precipitate the current environmental crises? What agency is available for transformative practices and imaginaries to redefine how we satisfy our energy and material requirements and avert large scale ecosystemic breakdown?
Post Growth invites us to challenge the dominant narratives about growth and progress, and explore the radical implications of various artistic prototypes, like an economic model based on energy emitted by the Sun. This speculative research provides perspectives for a shift away from the overexploitation of fossil fuels on which the reproduction of our societies mainly depends today.
Post Growth re-envision social metabolism through an understanding of the energy it requires, it aims to reconsider the critical dimension of living and material activities of the biosphere, drawing on ecofeminism, indigenous knowledge, environmental accounting and historical materialism.
Post Growth is an invitation to a collective and practical examination of our shared future, examining the notion of growth, in its many facets and implications, testing the limits of technology, of politics and of our imaginations.
CONCEPTION: DISNOVATION.ORG WITH BARUCH GOTTLIEB, PAULINE BRIAND, JULIEN MAUDET AND CLEMENCE SEURAT
PRESS:
IMAGES FROM IMAL
|
IMAGES FROM 3BISF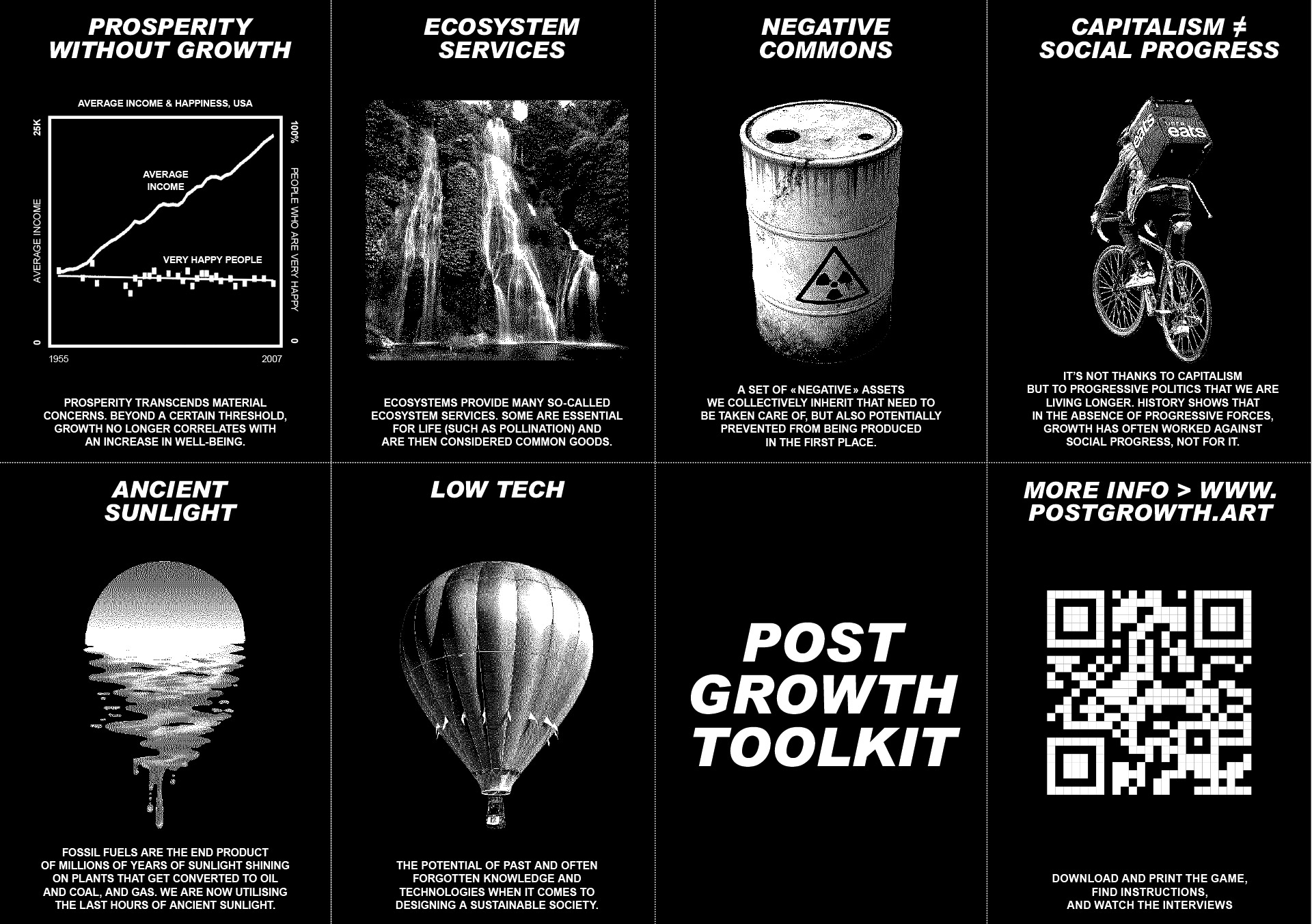 ---
POST GROWTH TOOLKIT (THE INTERVIEWS), 2020
As the COVID-19 crisis broke, there were a number of calls to seize the situation and bring about an ecologically-informed transformation of the capitalist growth model, even going so far as to make a radical break with the prevailing model. Today, we see most governments intend on returning their economies as soon as possible to the productivity levels from before the interruption, despite the dire consequences this will have for the environment. Those who called for a rupture have not been able to grasp the opportunity to bring about a radical re-envisioning of sustainable humanity on this planet.
In order to better understand the foundations of today's political and ecological crises, the artist collective set out to meet researchers, theoreticians and activists, and collected a number of stories and operational concepts in the form of video interviews. Focusing on notions such as planetary limits, the rebound effect, ecosystem services and the seventh-generation principle, these videos are published online to help cultivate a community and a set of theoretical and narrative tools that re-examine the utilitarian vision of nature conceived merely as a standing reserve for human industry, delegitimizing the logic of resource optimization, and technological solutionism. These proposals seek to encourage the prototyping and envisioning of radically different modes of living in relation with our environment.
With this in mind, during the course of the project we regularly host meetings with researchers with insights from various facets of the issue to contribute to this collective reflection, to sketch out paths leading towards social forms which understand themselves as part of all life and take into account the complexity of their ecosystemic symbiosis.
VIDEO INTERVIEWS:
POSTGROWTH.ART
CONCEPTION: DISNOVATION.ORG, CLEMENCE SEURAT
CONTRIBUTORS: DASHA ILINA, YUBO DONG, MACHA SAVYKINE, CAMILLE MARTENOT
DIGITAL VIDEOS WITH SOUND
SPECIAL THANKS TO GEOFFREY BOWKER AND ROSE O'LEARY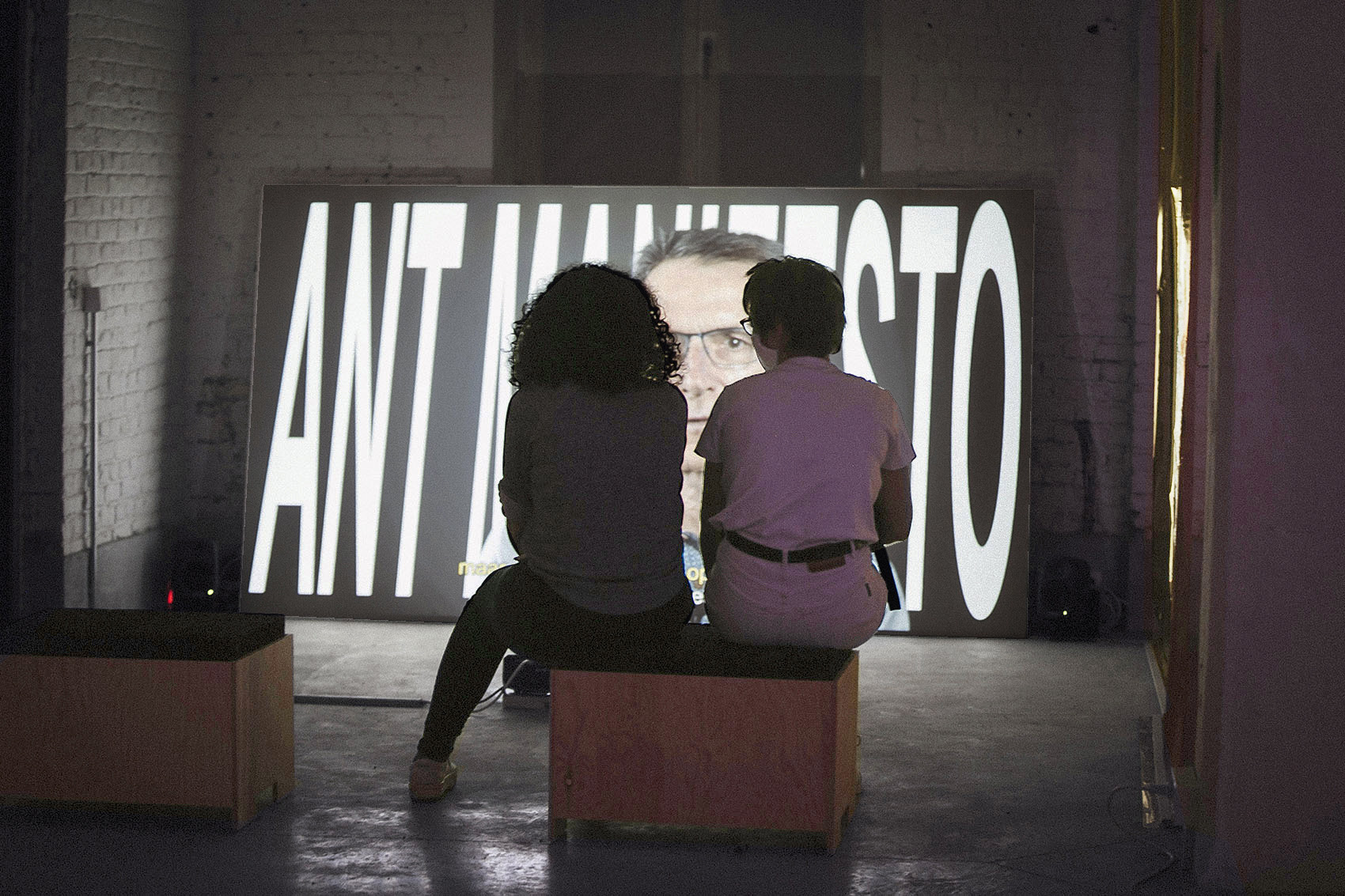 ---
POST GROWTH TOOLKIT (THE GAME), 2020
The Earth's ecosystems are undergoing irremediable changes as a result of human development, the source of a number of crises whose consequences can be measured on the scale of the planet. Rethinking our way of coexisting with our environment requires us to reevaluate the continuous growth of our energy footprints. These prototypes of critical games 'Post Growth Toolkit' are invitations to reprogram ourselves out of the economic growth orthodoxy. The series highlights the material conditions necessary to maintain our current standard of living in order to better understand how we may reproduce these differently.
At the intersection of science and speculative fiction, the 'Post Growth Toolkit' game proposes to literally reshuffle our world-views and to share stories, concepts and objects to re-examine how we are programmed and to stimulate new modes of understanding. It takes the form of a tactical card game: where small groups of players are invited to explore a number of key notions. The game becomes a means of transmission and collective debate intended to help participants find their bearings in a period of radical change.
DOWNLOAD THE GAME:
POSTGROWTH.ART
CONCEPTION: DISNOVATION.ORG, JULIEN MAUDET, BARUCH GOTTLIEB, PAULINE BRIAND AND CLEMENCE SEURAT
CONTRIBUTORS: DASHA ILINA, YUBO DONG, MACHA SAVYKINE, CAMILLE MARTENOT
INSTALLATION, ILLUMINATED GAME BOARDS, PLAYING CARDS, ONLINE RESOURCE PLATFORM, TAKE AWAY POSTERS
PRODUCTION: iMAL (BE) | COPRODUCTION: Biennale Chroniques (FR) | WITH SUPPORT FROM: Production Intérieure Brute (FR), ArTeC Paris (FR), La Labomedia Orléans (FR), CNC (Dicréam)(FR)
SPECIAL THANKS TO CATHERINE LENOBLE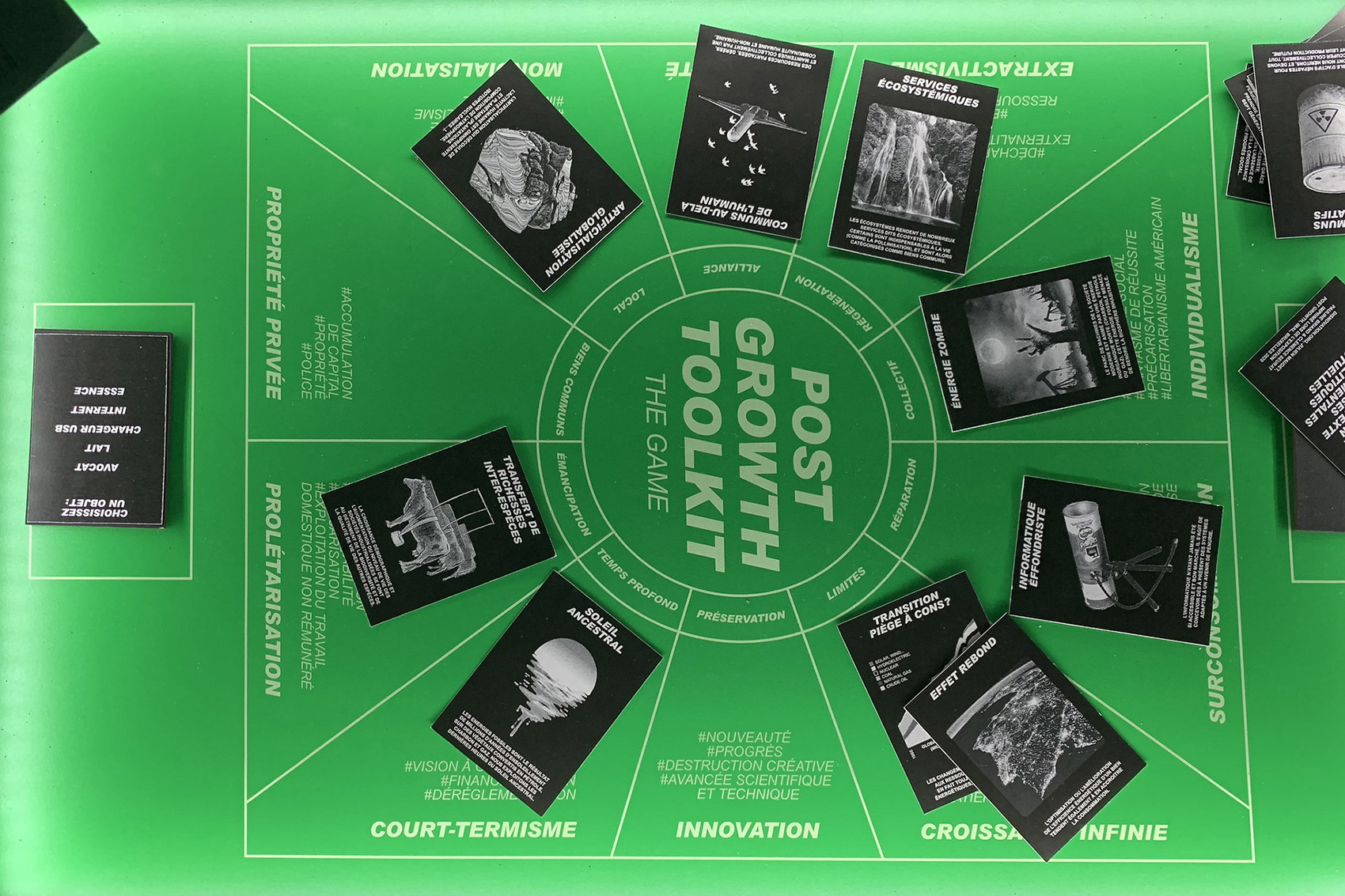 ---
ENERGY SLAVE TOKEN (HUMAN LABOR TO FOSSIL FUEL CONVERSION UNITS), 2020
In 1940, R. Buckminster Fuller introduced the term "energy slave" to describe the energy required to power the modern lifestyle [1]. The concept "energy slave" refers to the technological or mechanical energy equivalent to the physical working capacity of a human adult. The energy requirements for any lifestyle can be calculated as a number of "energy slaves" equivalent to the number of human labourers which otherwise would be needed to produce the same amount of energy. In 2013, it has been estimated that the average European employs the equivalent of 400-500 "energy slaves" 24 hours a day [2].
The Energy Slave Token consists of a series of weights made of bitumen, which are the energy equivalents to specific quantities of physical human labour time (ie. 1 hour, 1 day, 1 week, 1 month, 1 year, 1 life). This series of weights is designed to present the orders of magnitude that separate the labor power generated by our human bodies from the energy exploited mostly from fossil fuels which powers the technosphere. These open source tokens are designed to be easily replicated, used and distributed without restriction.
[1] Richard Buckminster Fuller (Feb. 1940). World Energy. Fortune.
[2] Jean-Marc Jancovici (Aug. 2005). How Much of a Slave Master Am I? Manicore.
MORE INFO:
DEDICATED WEBPAGE
CONCEPTION: DISNOVATION.ORG, BARUCH GOTTLIEB
CONTRIBUTORS: CLÉMENT GASQUE, RAPHAEL RUBBENS, MACHA SAVYKINE
INSTALLATION, SERIES OF 5 STANDARD WEIGHTS, POSTER, 3D VIDEO
PRODUCTION: iMAL (BE) | COPRODUCTION: Biennale Chroniques (FR) | WITH SUPPORT FROM: Production Intérieure Brute (FR)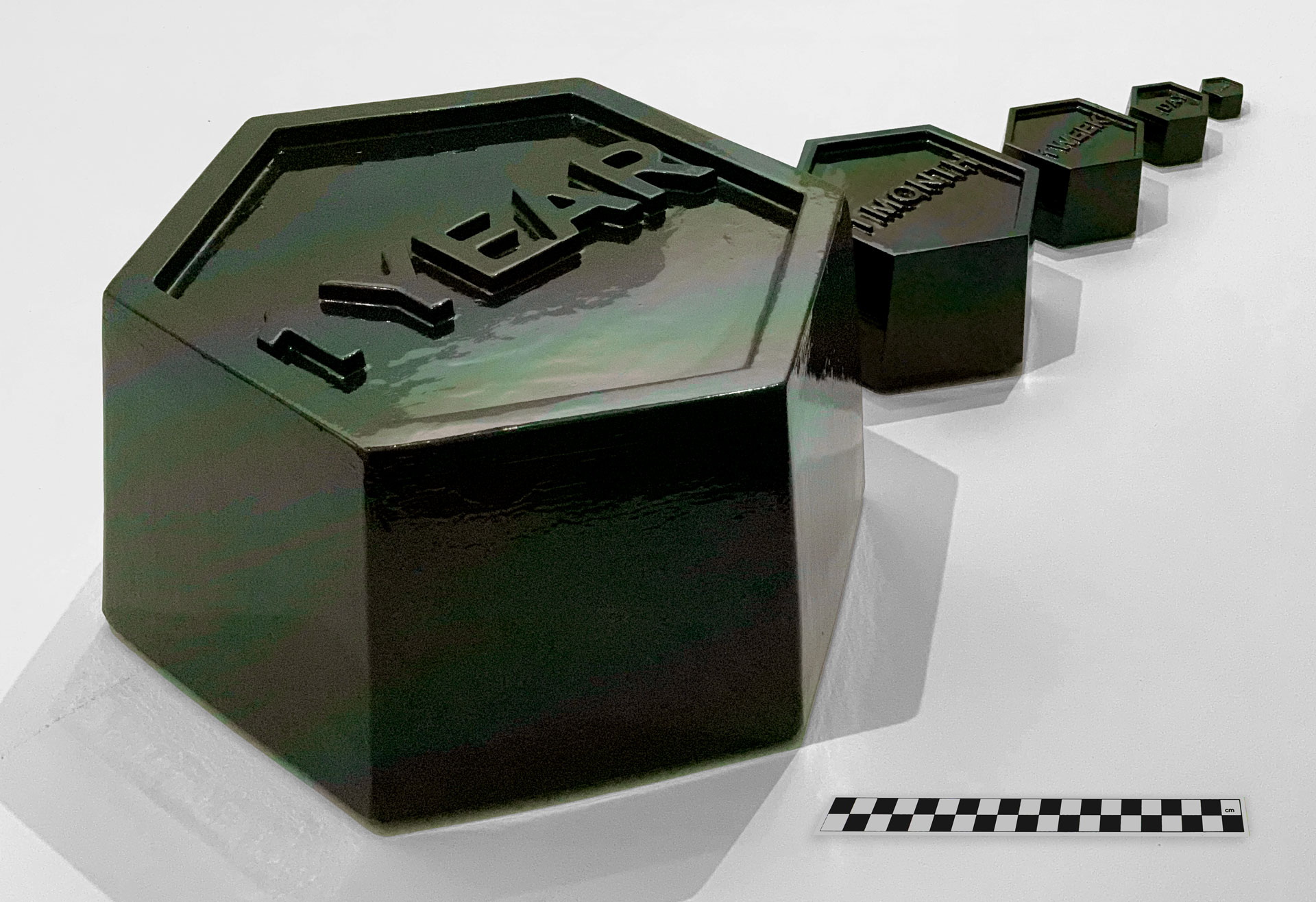 ---
SOLAR SHARE (THE STORY), 2020
High on fossil fuels, modern societies normalized the ideology according to which humankind could detach itself from the constraints and material limitations of planetary life. These constraints become harder to ignore, as the planet's holding capacity begins to falter, and its resources run dry. How are we to reconnect with the physical, material and living reality of the world on which we depend entirely? Even today, the prevailing economic models still seem to ignore the extent to which necessary circulation of matter and energy depends on crucial physical processes for the regeneration of the biosphere or for human societies.
The "Solar Share" framework explores various speculative and radical economic models, based on the only energy input actually renewed over very long time scales here within the geo-biosphere : the extraterrestrial energy coming from the Sun. It aims to revise the prevailing economic growth narratives with an acknowledgement of the material conditions required for the persistence of our form of life in the biosphere. It proposes futuristic visions of new relationalities between humans, life and the Earth system.
The computational and diagrammatic models that have emerged from this artistic research aim to engage a broad public with vital information from science. By externalizing, in artistic and aesthetic forms, the energy systems that govern the planet's metabolism, these models are intended to supplement critical discussion of our prospects on this planet, both in specialized spheres and in the general public, with an emphasis on the unquantifiable and missing data which lurks behind and threatens to undermine scientific, political and economic confidence.
CONCEPTION: DISNOVATION.ORG, BARUCH GOTTLIEB
WEB DEVELOPER: JÉRÔME SAINT-CLAIR
INSTALLATION, DIGITAL VIDEO WITH SOUND
PRODUCTION: iMAL (BE) | COPRODUCTION: Biennale Chroniques (FR)
SPECIAL THANKS TO OLIVIER LE CORRE AND LAURENT TRUFFET (ÉCOLE DES MINES DE NANTES).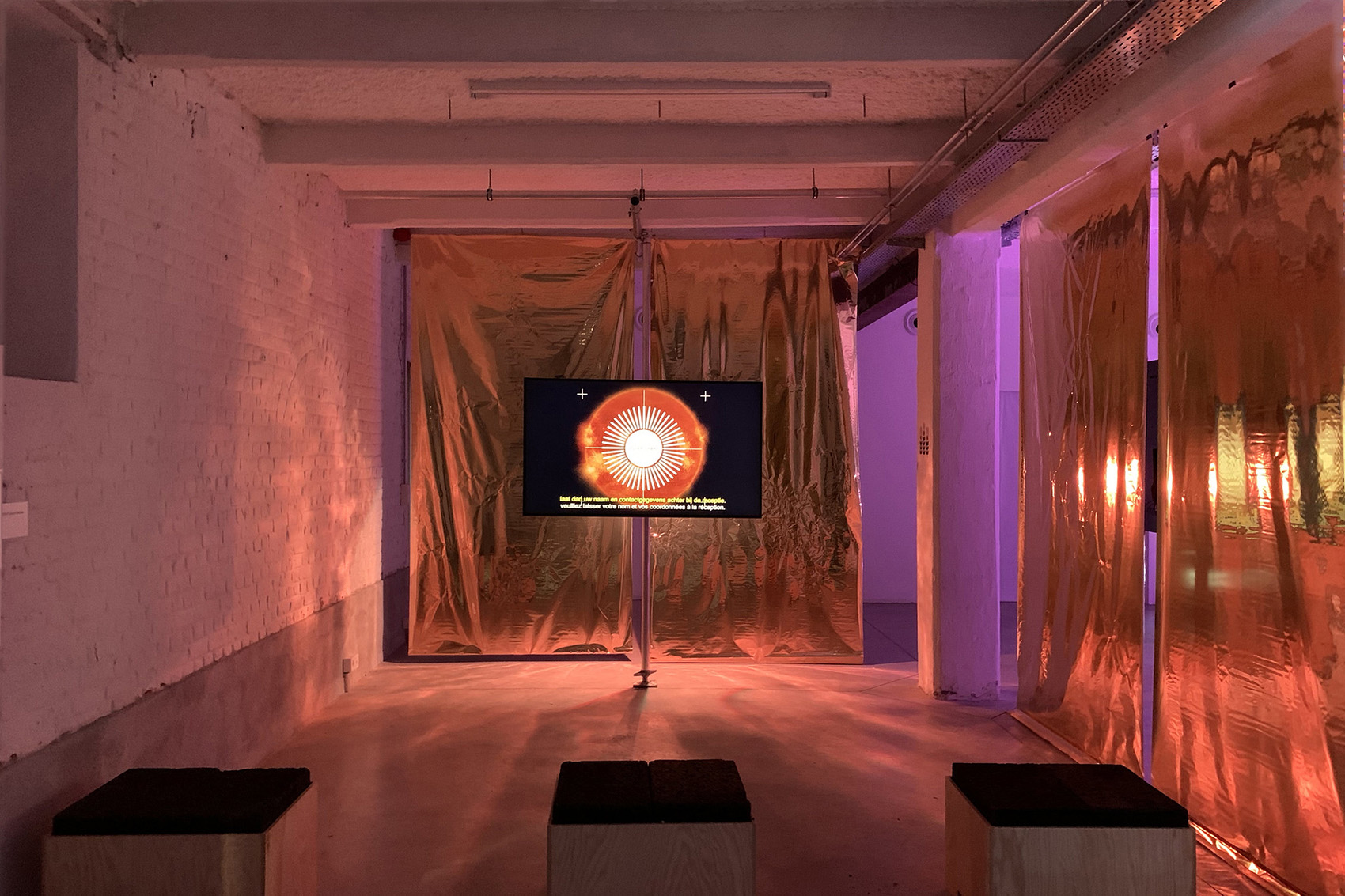 ---
SOLAR SHARE (THE FARM), 2020
The prevailing economic orthodoxy, by which we are trained to describe and value our daily relationships with society, the world, and the biosphere, maintains this assumption inherited from the 18th c. that natural resources are unlimited, and consequently their value tends towards zero. This in effect invisibilizes and devalues the material dependencies of our societies in ecosystems. How to describe anew our relationship with the living world, and the circulation of energy and matter in the biosphere, in order to hyper-visibilize these dependencies instead of obscuring them?
As a response, "The Farm" experiment consists of one square meter of wheat cultivated completely artificially in a closed environment where all inputs are controlled and measured (water, light, nutrients...). This protocol allows to estimate the orders of magnitude of material and energy flows otherwise provided by ecosystems on arable land. The aim is thus to hyper-visibilize the immense scale of ecosystem contributions, an implicit affluence, fundamental to all human and non-human processes, which is invisibilized by convention in neo-classical economics.
Solar Share (The Farm) seeks to demonstrate a fundamental and paradoxical challenge to the proposal from agro-industries to provide for the nutritional needs of large urban populations, through grow houses and other artificially controlled environments. This 1 square meter experiment makes manifest the vast technical infrastructure and energy flows required to grow a staple food such as wheat in an artificial environment. In today's economy it is profitable to artificially produce agricultural products with high water content such as leafy greens and tomatoes.
However, from a systemic understanding, this apparent profitability and efficiency of the current system relies on the availability of cheap fossil energy, unaccounted-for resource extraction and pollution all over the globe, incurred in subordinate processes from mining and electronics manufacture, to international freight. The present experiment seeks to reveal the numerous layers of invisibilized interdependencies, and to provide a speculative reference reckoning of the incalculable ecosystem services at play in conventional agriculture.
[1] Vaclav Smil (June 2018). IEEE-Spectrum.
MORE INFO:
DEDICATED WEBPAGE
CONCEPTION: DISNOVATION.ORG, BARUCH GOTTLIEB
WEB DEVELOPER: JÉRÔME SAINT-CLAIR
HARDWARE DEVELOPERS: VIVIEN ROUSSEL, THOMAS DEMMER
INSTALLATION, 1M2 OF AUTOMATED CULTIVATION, LED GROW LIGHTS, CAMERA, LIVE VIDEO STREAMING
PRODUCTION: iMAL (BE) | COPRODUCTION: Biennale Chroniques (FR)
SPECIAL THANKS TO OLIVIER LE CORRE AND LAURENT TRUFFET (ÉCOLE DES MINES DE NANTES).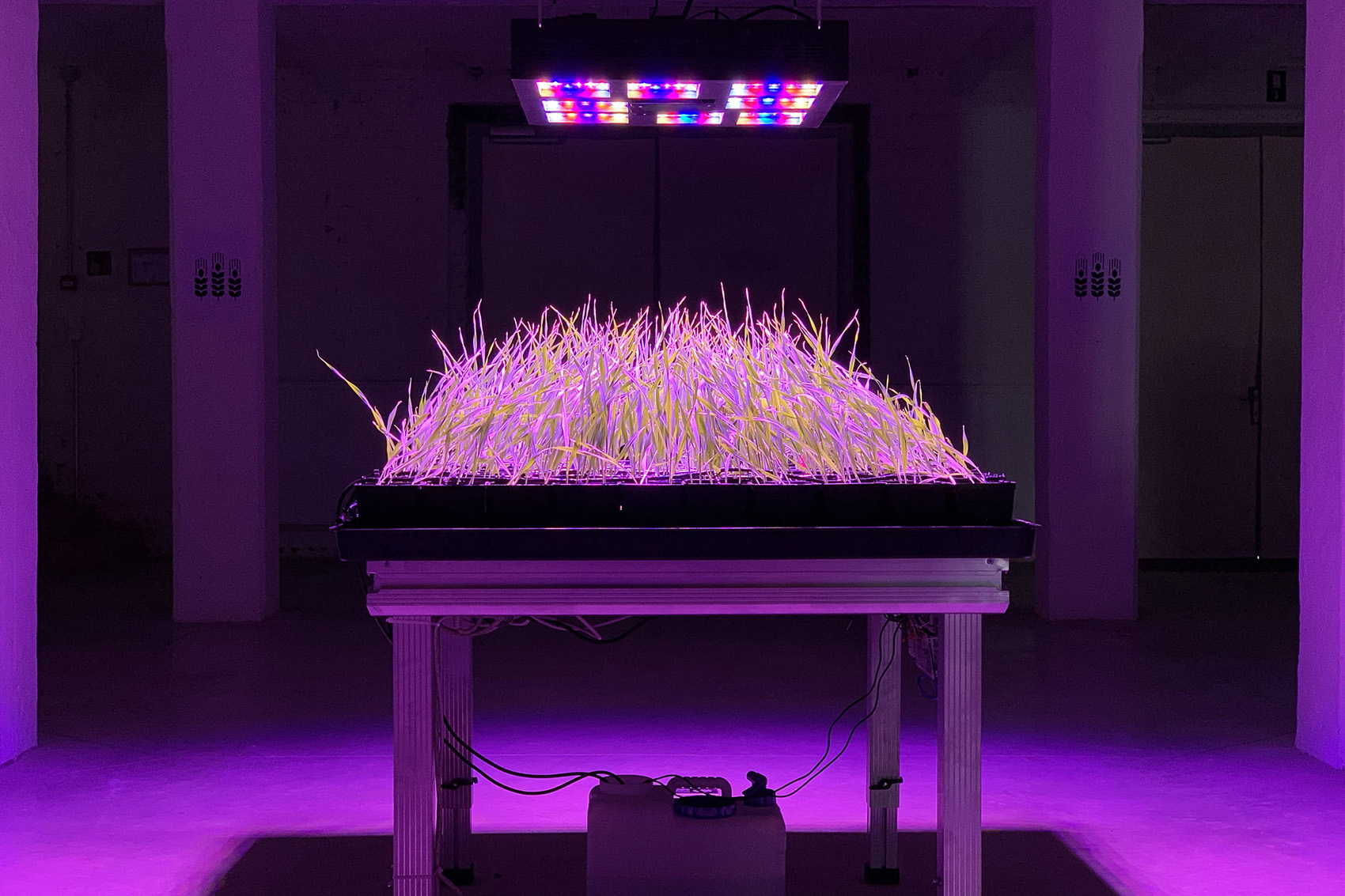 ---
SOLAR SHARE (THE COINS), 2020
The controversial concept of Emergy [1] attempts a comprehensive accounting of the energy stocks and flows involved in the reproduction of life, and thus of human activities on the planet. Emergy allows for factors such as extremely slow and vast processes to be acknowledged as vital contributions to life, one we can no longer take for granted in an age of accelerating technological advance. Solar energy emerges as central in Emergy modelling, responsible for most of the sources of energy we rely upon today, including wind, tides and, especially, fossil fuels.
Some areas of the world get more sunlight than others, some "use" more sunlight than others. In Europe we are able to use considerably more energy than we receive from the sky through imports in various concentrated forms, principally petroleum, coal and natural gas. Brussels is one of the 5 least sunny cities in Europe, receiving only 3 kWh/m2 on an average day, and only 1000 kWh/m2 a year [2], yet Brussels' energy consumption is comparable to most European cities.
Solar Share coins are made of PET plastic, a petroleum bi-product, ancient sunlight concentrated in organic material over millions of years. A few grams of PET has the same embodied energy as 1m2 of yearly solar irradiation in Brussels.
How might our understanding of economics change if the instruments we used for money had an equivalent value to the solar energy required to materially produce them? As a speculative response, each Solar Share coin embodies the average solar irradiation received at a specific urban location.
[1] The Emergy methodology is based on the theory by Howard T. Odum. https://en.wikipedia.org/wiki/Emergy
[2] Solargis, Global Horizontal Irradiation. https://solargis.com/maps-and-gis-data
CONCEPTION: DISNOVATION.ORG, BARUCH GOTTLIEB
WEB DEVELOPER: JÉROME SAINT-CLAIR
INSTALLATION, PLEXIGLASS FRAMES, COINS MADE OF PLASTIC WASTE
PRODUCTION: iMAL (BE) | COPRODUCTION: Biennale Chroniques (FR)
SPECIAL THANKS TO: OLIVIER LE CORRE AND LAURENT TRUFFET (ÉCOLE DES MINES DE NANTES)
DISNOVATION.ORG [FR/PL/DE] is an artist led action-research collective founded in 2012 in Paris by Nicolas Maigret & Maria Roszkowska.
WEBSITE
BARUCH GOTTLIEB [CA/DE] is an artist, researcher and curator. He currently teaches Philosophy of Digital Art at the Berlin University of the Arts and Data Epistemology at the Technical University of Brandenburg. He is a member of the artist collectives Telekommunisten and Arts & Economic Group. He is the author of A Political Economy of the Smallest Things (ATROPOS 2016) and Digital Materialism (Emerald 2018).
WEBSITE
CLÉMENCE SEURAT [FR] is a curator and editor, she investigates the fields of reflection and action related to political ecology. She was a member of the Speap art and politics experimentation program. She co-founded the COYOTE collective and the 369 publishing house. Within the Sciences Po Medialab, she designs programs and edits content for FORCCAST.
WEBSITE
JULIEN MAUDET [FR] designs board games as a tool for social interaction. He creates political and satirical entertainment devices based on recent political and social events.
WEBSITE
PAULINE BRIAND [FR] is a journalist and a writer interested in the livings. For Billebaude, Usbek and Rica or the National Museum of Natural History, she wrote about myxomatosis, the forests and climate change, the disappearance of insects, bears, the evolution of life, and anthropology beyond the human. She is involved in several research programs at the crossroad between journalism, art and earth policies.
WEBSITE
---
Contact and press inquiries:
Email:
contact[at]disnovation.net
Exhibited at:
iMAL, Brussels
, 2020 [BE]
3 BIS F, Aix-en-Provence, 2020 [FR]
Science Gallery, Detroit, 2020 [US]
Press Kit & HD Images:
Flickr
Production:
iMAL
Brussels (BE) | Coproduction:
Biennale Chroniques
, Aix-en-Provence (FR) | With The Support Of:
Production Intérieure Brute
(FR),
ArTeC
Paris (FR),
Le Labomedia
Orléans, (FR)
CNC
(Dicréam)(FR),
University of California
Irvine (USA)