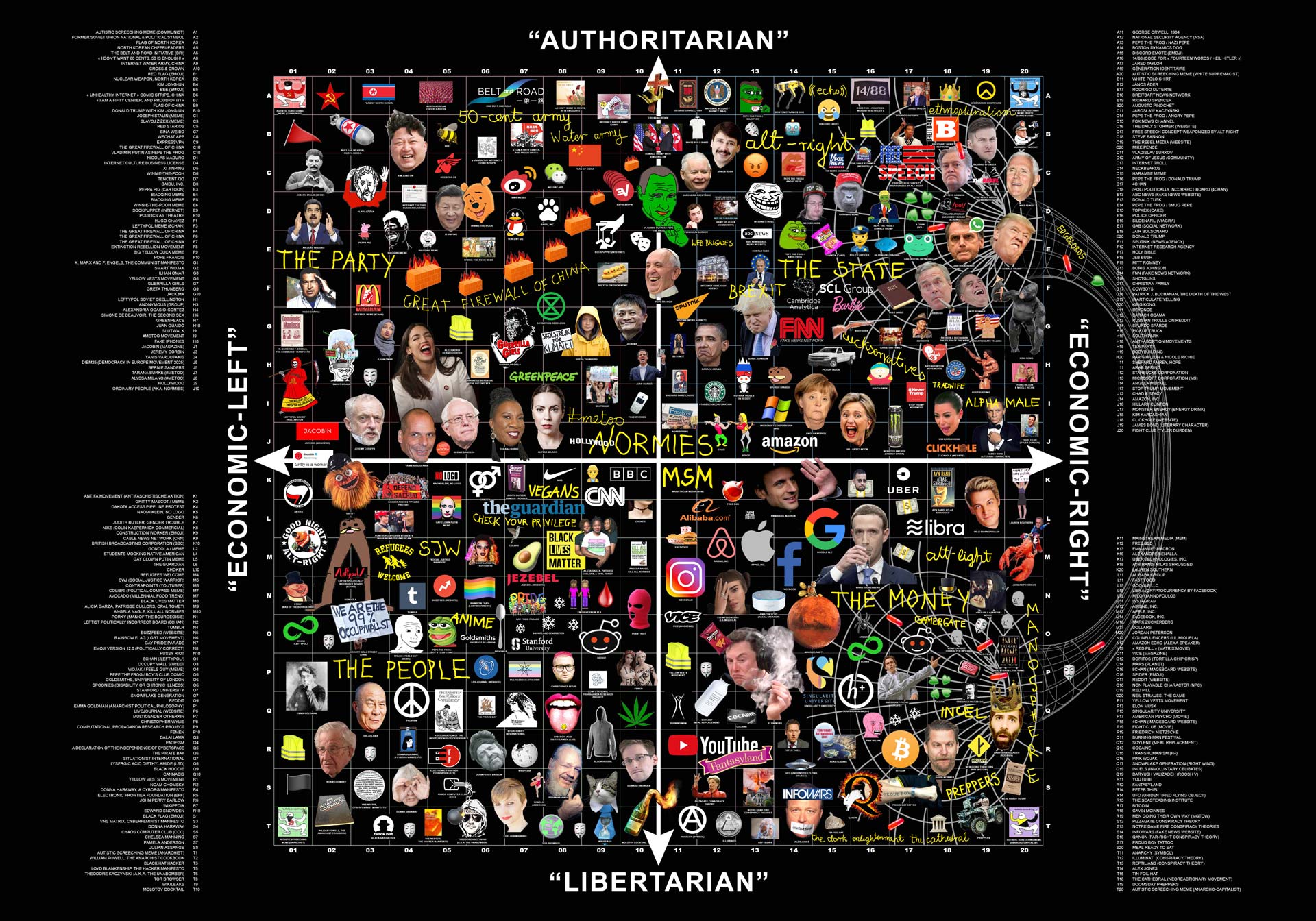 SUMMARY
ONLINE CULTURE WARS (MAP)
ONLINE CULTURE WARS (VIDEO)
ONLINE CULTURE WARS (EXHIBITION)
ONLINE CULTURE WARS (CONTEXT)
---
ONLINE CULTURE WARS (MAP)
The map Online Culture Wars is an overlay of hundreds of politicized memes, along with influential political figures and symbols. It is designed as a discussion starter, intended to visualize and contextualize the ongoing online culture wars, and some of the main political references, actors, and influencers.
From Twitter to Facebook, Instagram, Reddit, Gab, or 4chan, one of the by-products of online culture wars is the over-politicization of seemingly mundane topics, products, practices, and cultural elements. In recent years, online cultures have been subjected to a growing polarization, politicization, and radicalization, influenced by numerous actors, and magnified by the very features of ubiquitous social networks. This cartography offers a representation of online ideological and political frictions, integrated into the visual system of a Political Compass meme.
CONCEPTION: DISNOVATION.ORG (2018-2019)
IN COLLABORATION WITH
BARUCH GOTTLIEB
PROTOTYPE | A0-POSTER, WALLPAPER MURAL
DOWNLOAD AS PDF
PROTOTYPE VERSION 0.3 (PDF, 11MB, HD VERSION)
VIDEO TEASER
|
PRESS IMAGES
| REQUEST FOR COMMENTS
CONTACT[AT]DISNOVATION.NET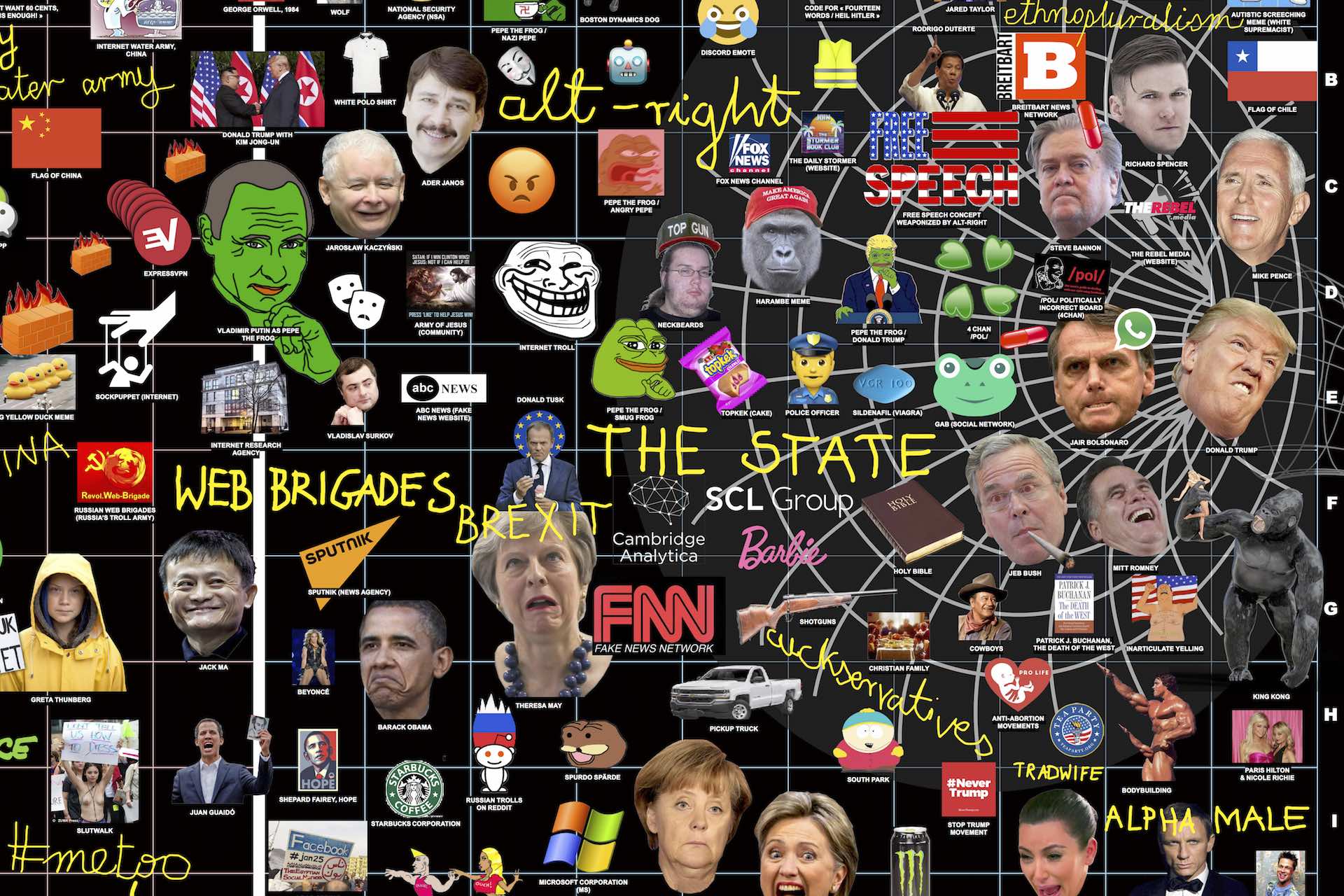 ---
THE PERSUADABLES (ONLINE CULTURE WARS - VIDEO)
Ubiquitous social networks gave rise to new types of practices, new forms of expression, and new means for collective organization of protest and discord. In this context, the manipulation of public opinion over social media platforms has emerged as a critical threat to public life.
This video focuses on the political instrumentalization of the tools, techniques, and infrastructures of the web, with a particular attention to the social media influence ecosystem, and online manipulation of opinion. It exposes some practices broadly used for online propaganda, as well as creative responses that they triggered in the civil society.
CONCEPTION: DISNOVATION.ORG (2019)
VIDEO, HD, ENGLISH, 20 MINUTES
DEDICATED PAGE
|
VIDEO LINK
|
PRESS IMAGES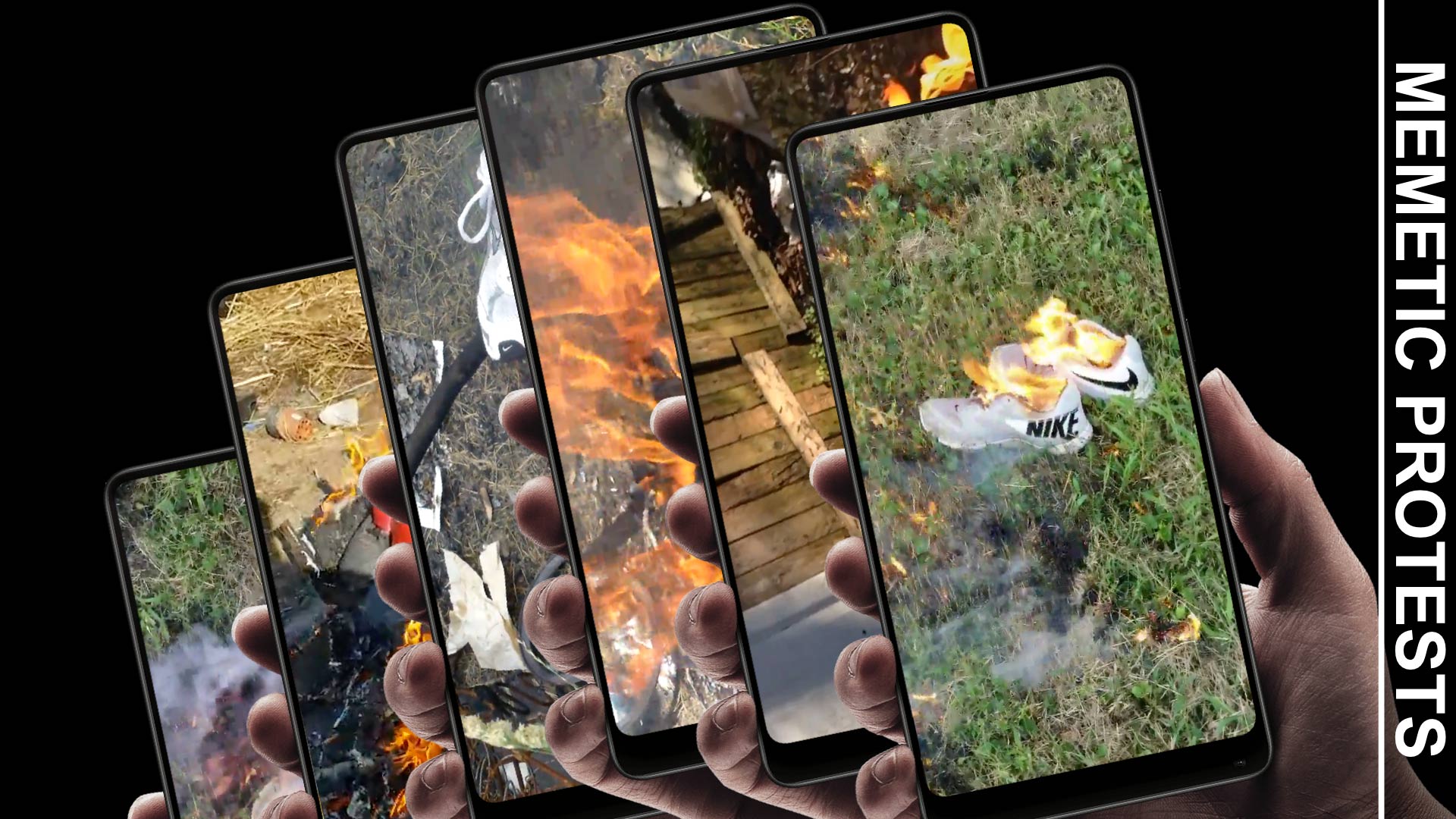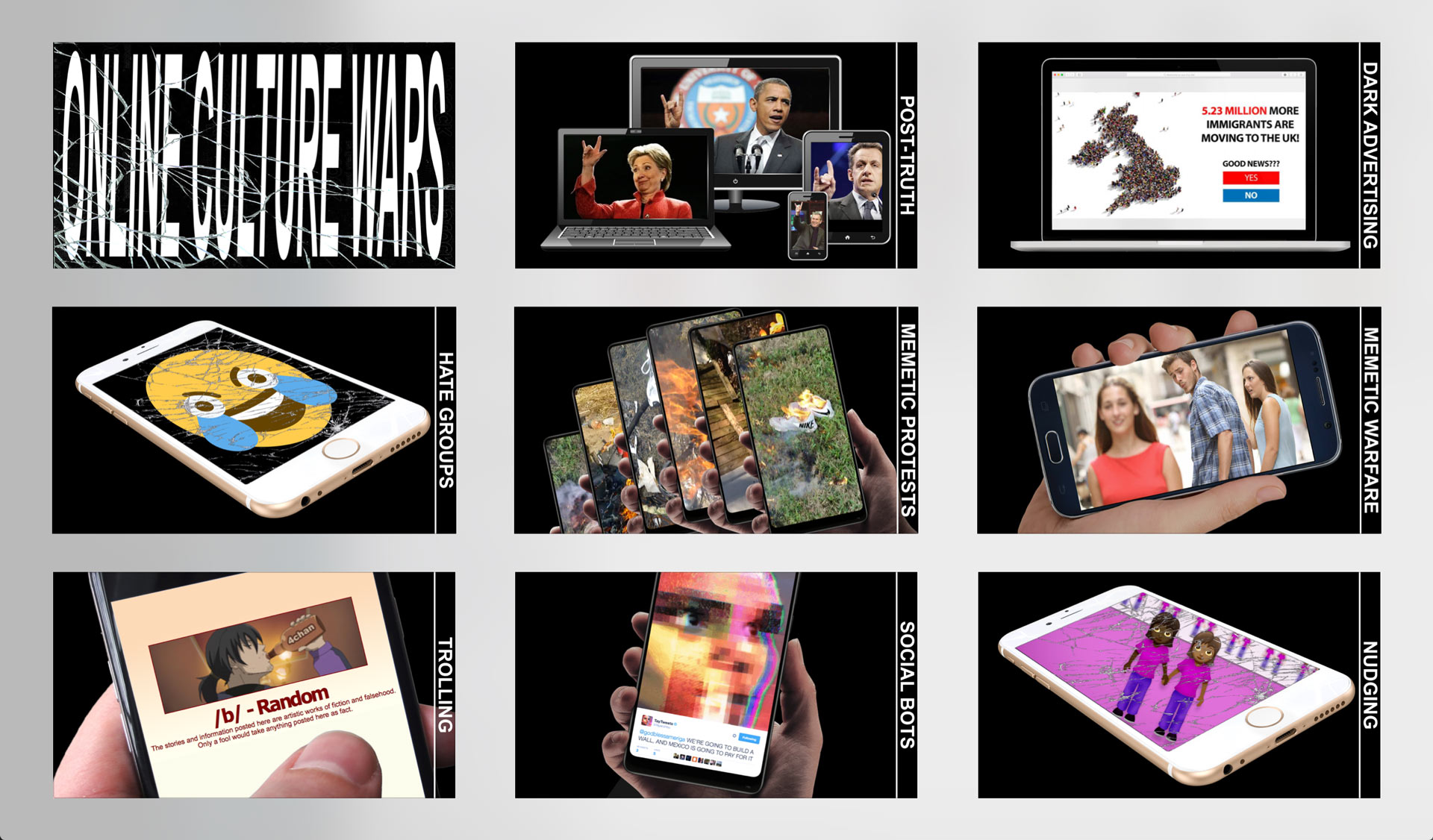 ---
ONLINE CULTURE WARS (EXHIBITION)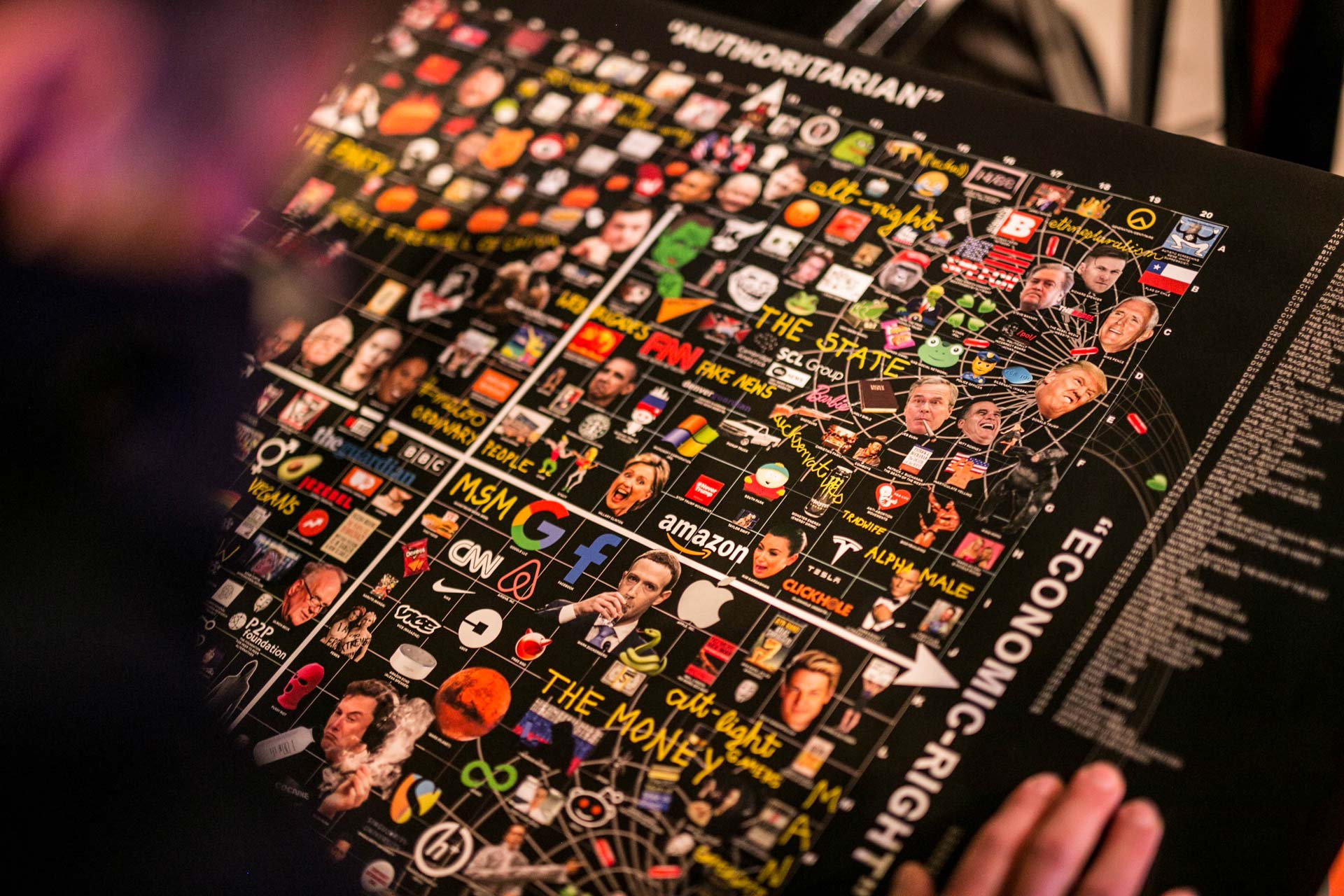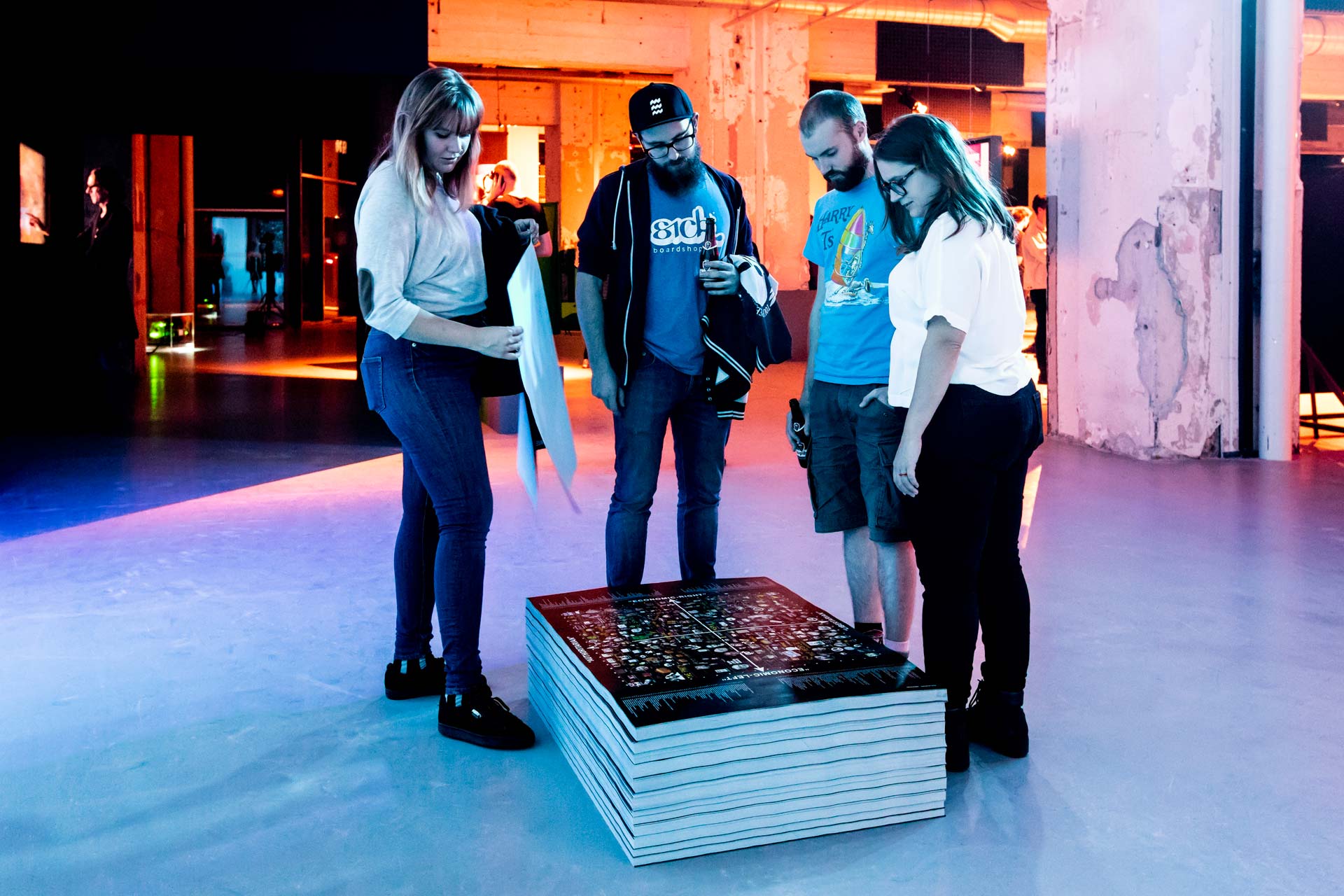 ---
ONLINE CULTURE WARS (CONTEXT)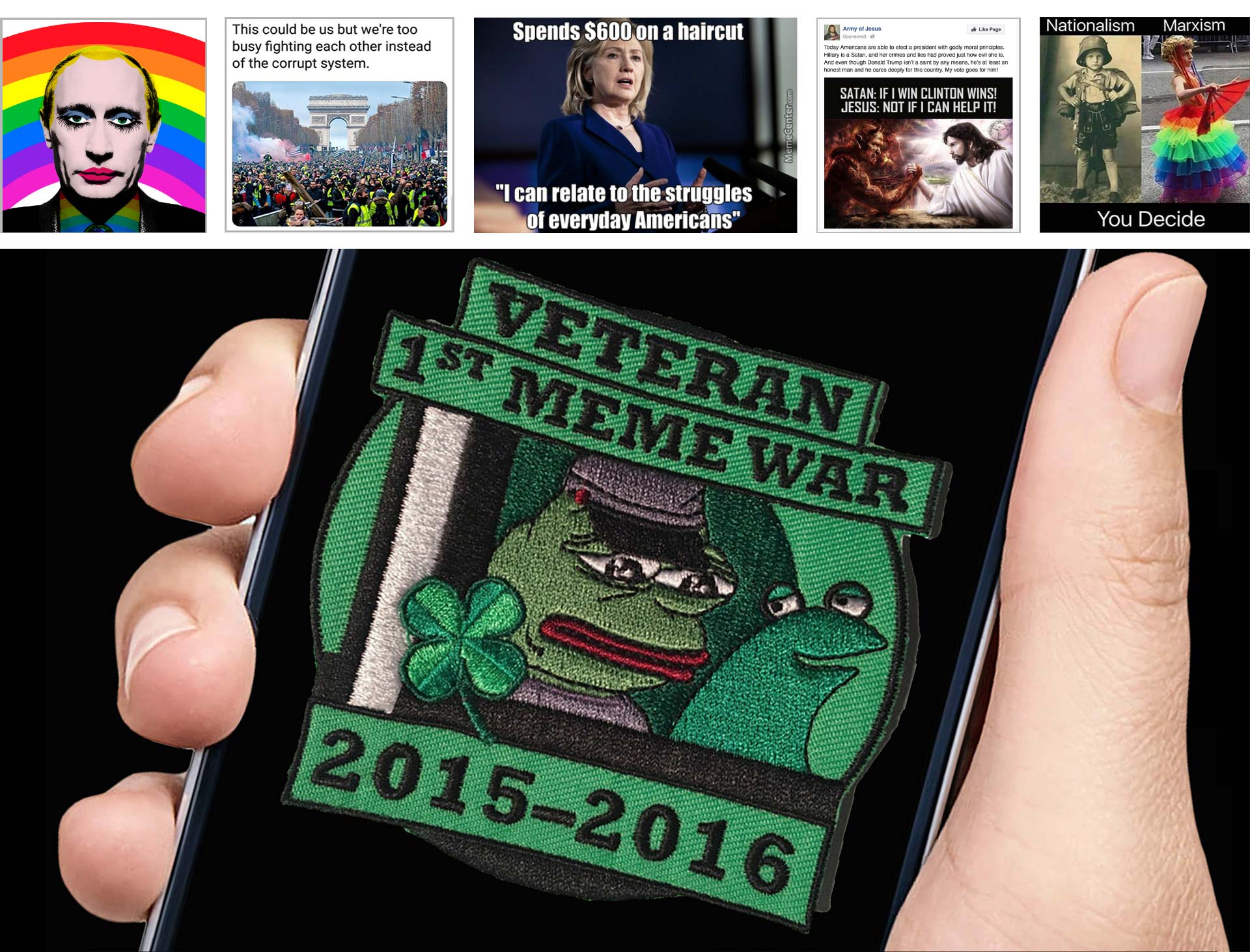 WEAPONIZED INTERNET MEMES / MEMETIC WARFARE
Memetic warfare is a competition over narrative, ideas, and social control in a social-media battlefield. During the 2016 US presidential election, memetic warfare on the part of 4chan and The_Donald sub-reddit is often credited with assisting Donald Trump in winning the election in an event they call 'The Great Meme War'.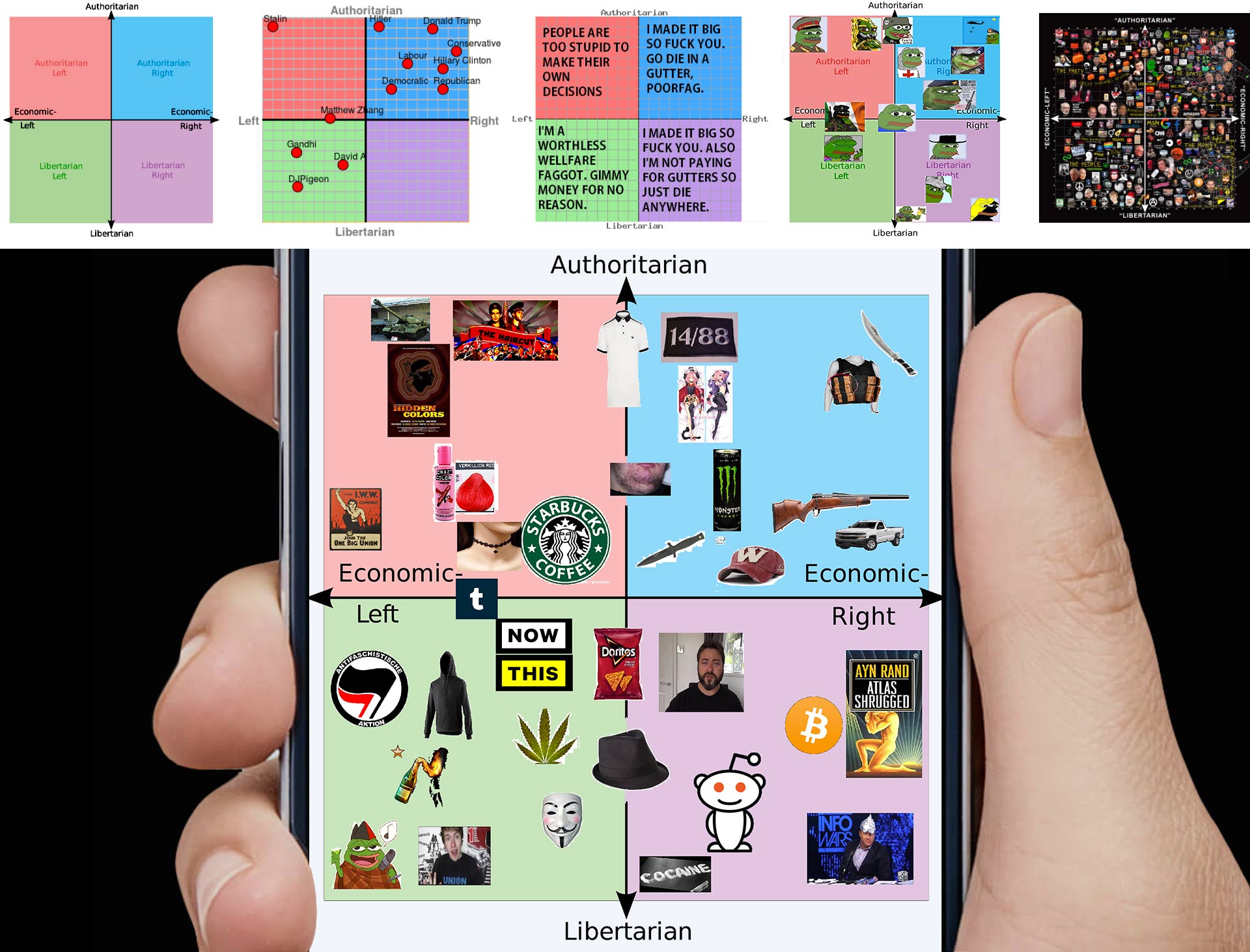 THE POLITICAL COMPASS / PARODY EDITS
The Political Compass is a two-axis model used to label or organize political thought, usually between libertarian/authoritarian and economic-left/economic-right. Since 2004, the political compass website has covered several elections in english-speaking countries. While the political compass is based on a questionable methodology, it remains a popular political model. The political compass model has spawned many parody edits. Variations can be found featuring memes, fandoms and generally mocking the political spectrum. The first parody edit appears to have occurred on
August 29th, 2012
in a Warosu.org thread. Soon after, political compass memes expanded to include pop culture references.
---
Request for comments:
If you have any comments, question or suggestions, please feel free to let us know. We will include your feedback for the next version of this political compass. Email:
contact[at]disnovation.net
Exhibited at:
MUTEK-SF, San Francisco, 2019 [USA]
The Alt-Right Komplex, HMKV, Dortmund, 2019 [DE]
Internet Yami-Ichi, Matadero, Madrid, 2018 [ES]
Institut UTINAM, CNRS, Besançon, 2018 [FR]
The New Newsroom, MU Artspace, Eindhoven, 2018 [NL]
Im Zweifel für den Zweifel, NRW-Forum, Düsseldorf, 2018 [DE]
Press Kit & HD Images:
Flickr
With The Support Of:
NRW-Forum
Düsseldorf (DE),
MU artspace
Eindhoven (NL),
Institut UTINAM
Besançon (FR) (with
José Lages
),
M-Cult
(FI) (with
EMAP/EMARE
,
Creative Europe
),
HMKV
Dortmund (DE).
The Work was realised within the framework of the European Media Art Platforms EMARE program at m-cult with support of the Creative Europe Culture Programme of the European Union.