In the context of omnipresent telecommu-nications surveillance, The Pirate Cinema makes visible the hidden activity and geography of peer-to-peer file sharing. The project is presented as a monitoring room, which shows P2P transfers happening in real time on networks using the BitTorrent protocol.
The installation produces an arbitrary cut-up of the files currently being exchanged. This immediate and fragmentary rendering of digital activity, with information concerning its source and destination, thus depicts the topology of digital media consumption and uncontrolled content dissemination in a connected world.
CONCEPTION: DISNOVATION.ORG
PROGRAMMING: BRENDAN HOWELL & JEAN-MARIE BOYER
INSTALLATION & LIVE PERFORMANCE | 2012–2014
↳
thepiratecinema.com
The Pirate Cinema - Installation version
The Pirate Cinema - Live performance version
The Pirate Cinema - Online version - excerpt
The Pirate Cinema - Act 3 - Copyright Infringement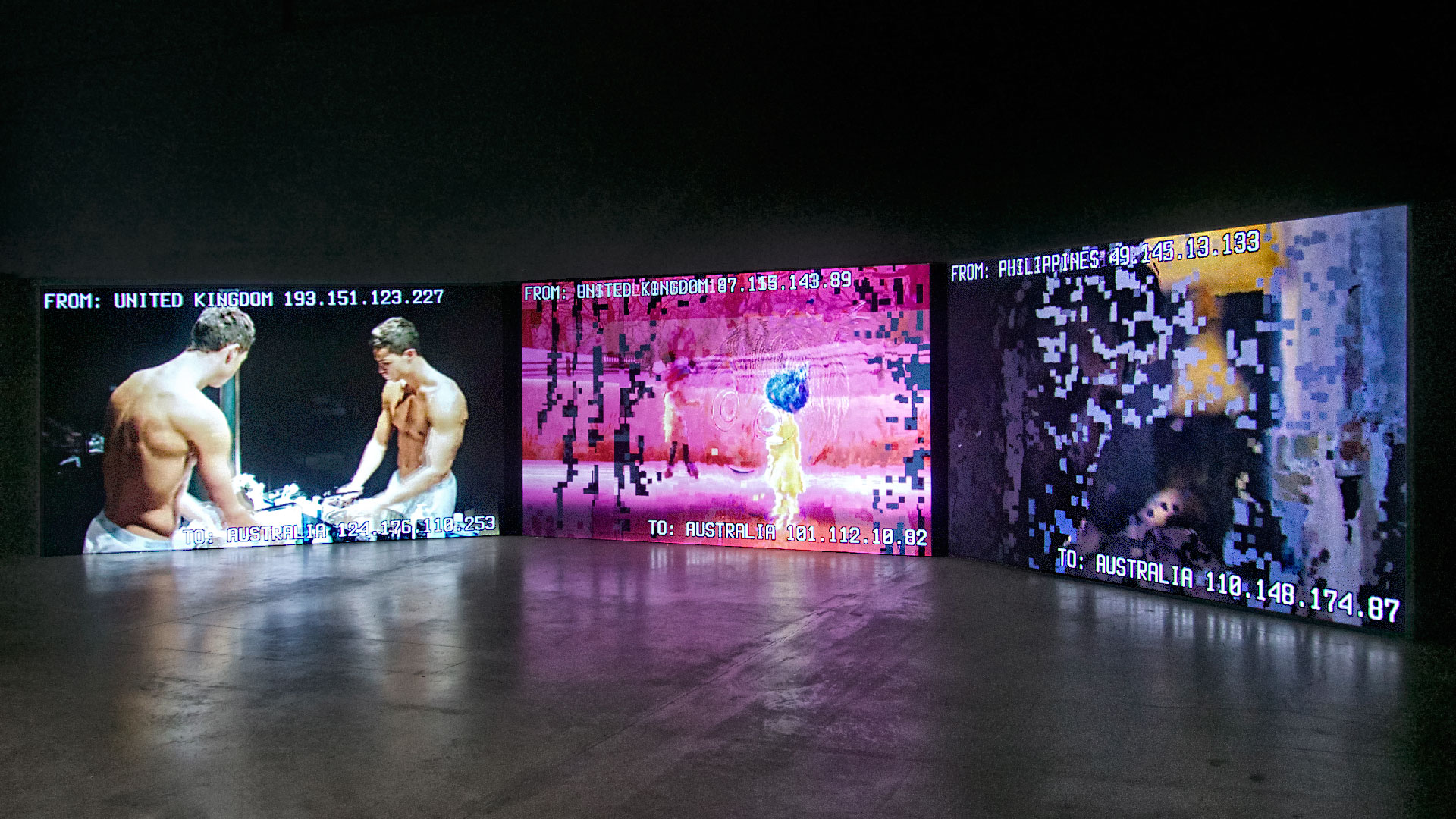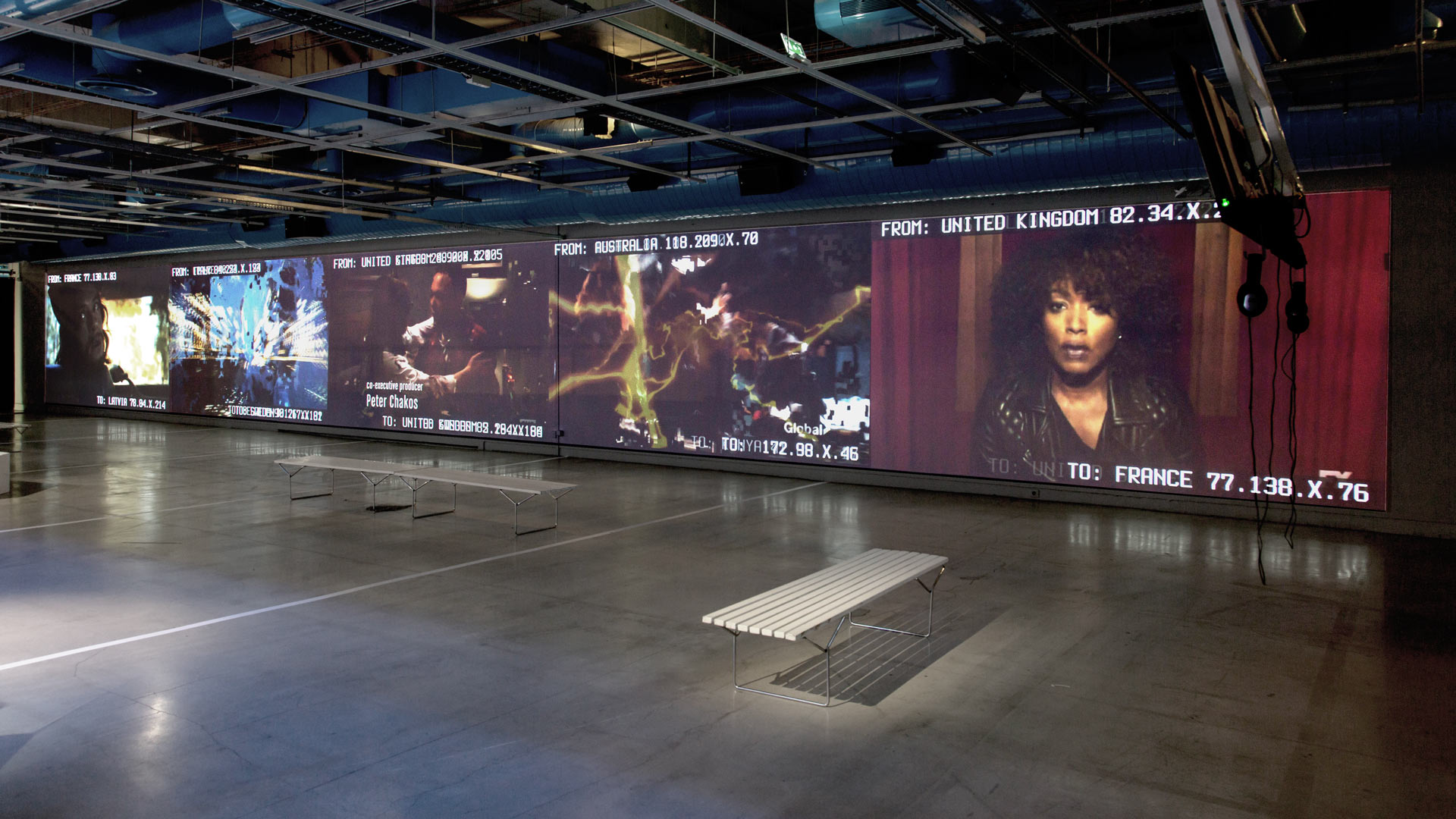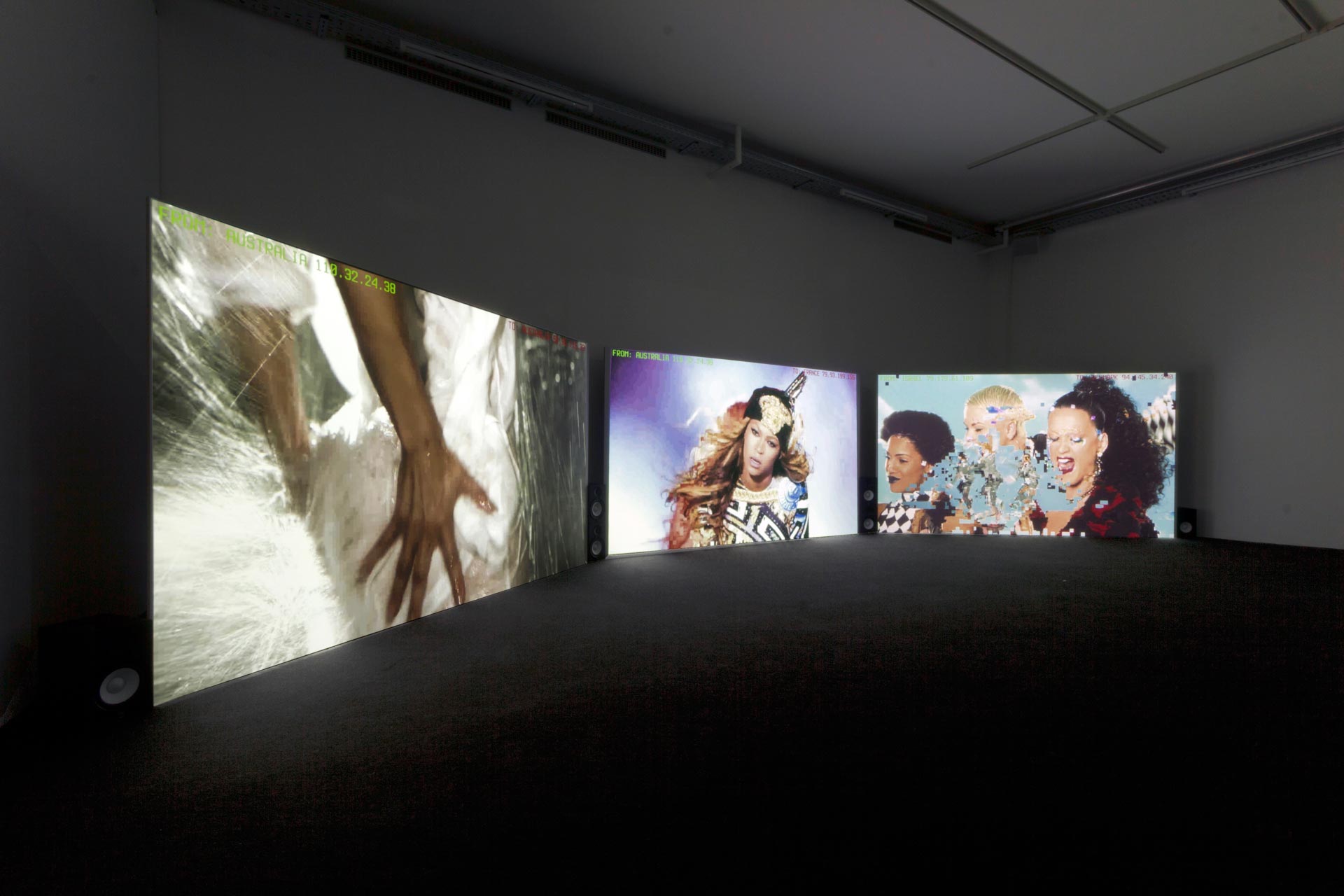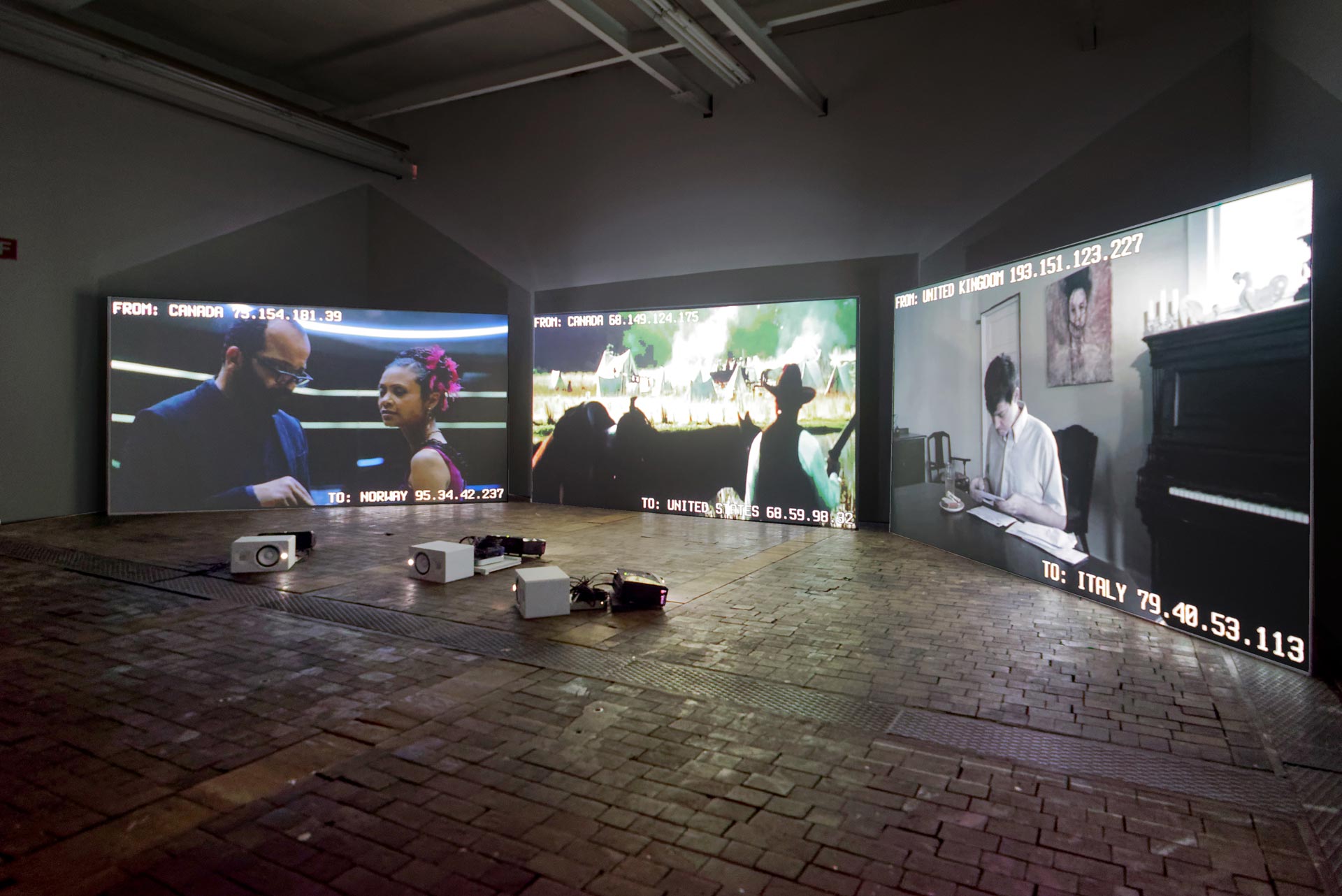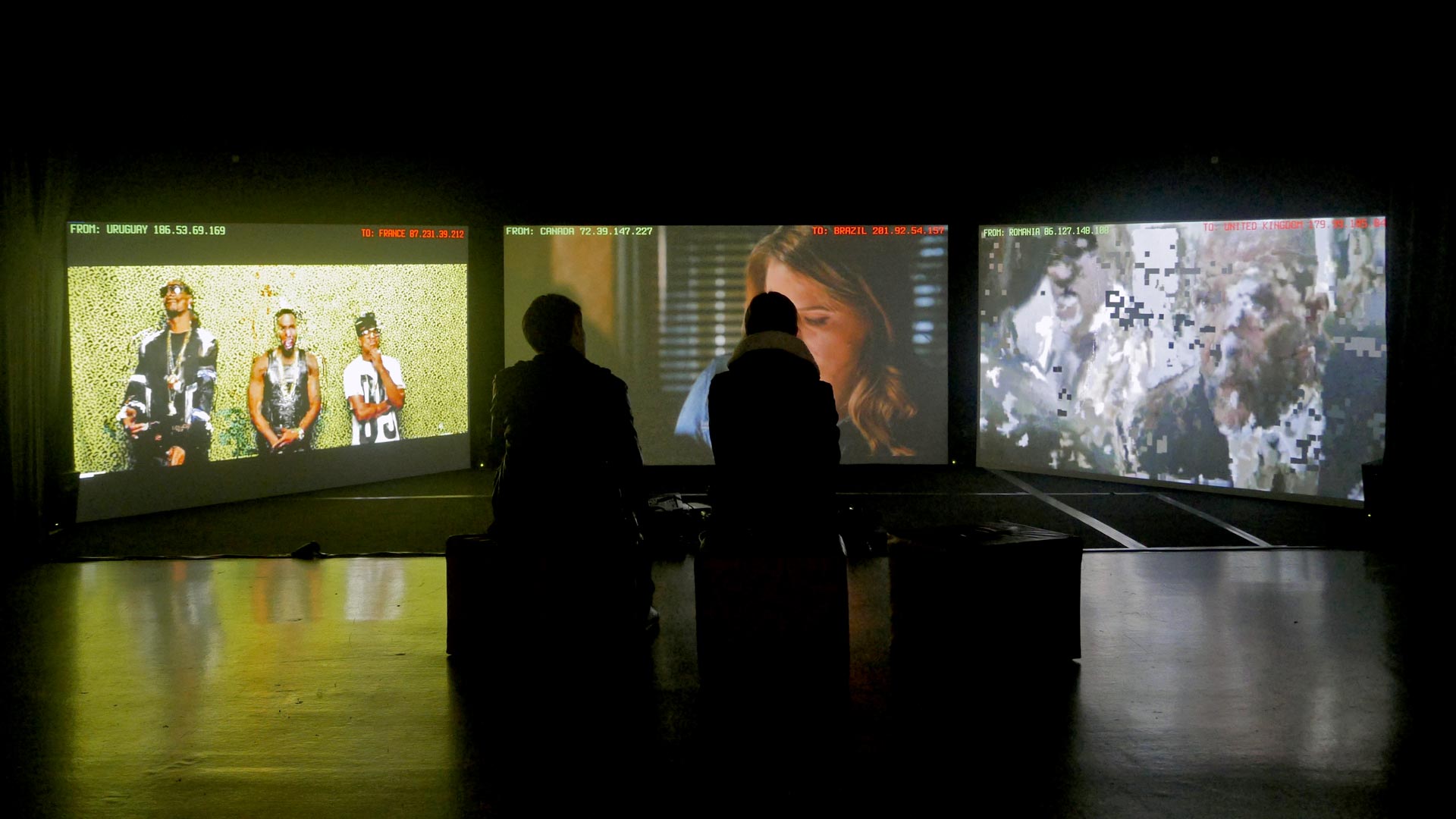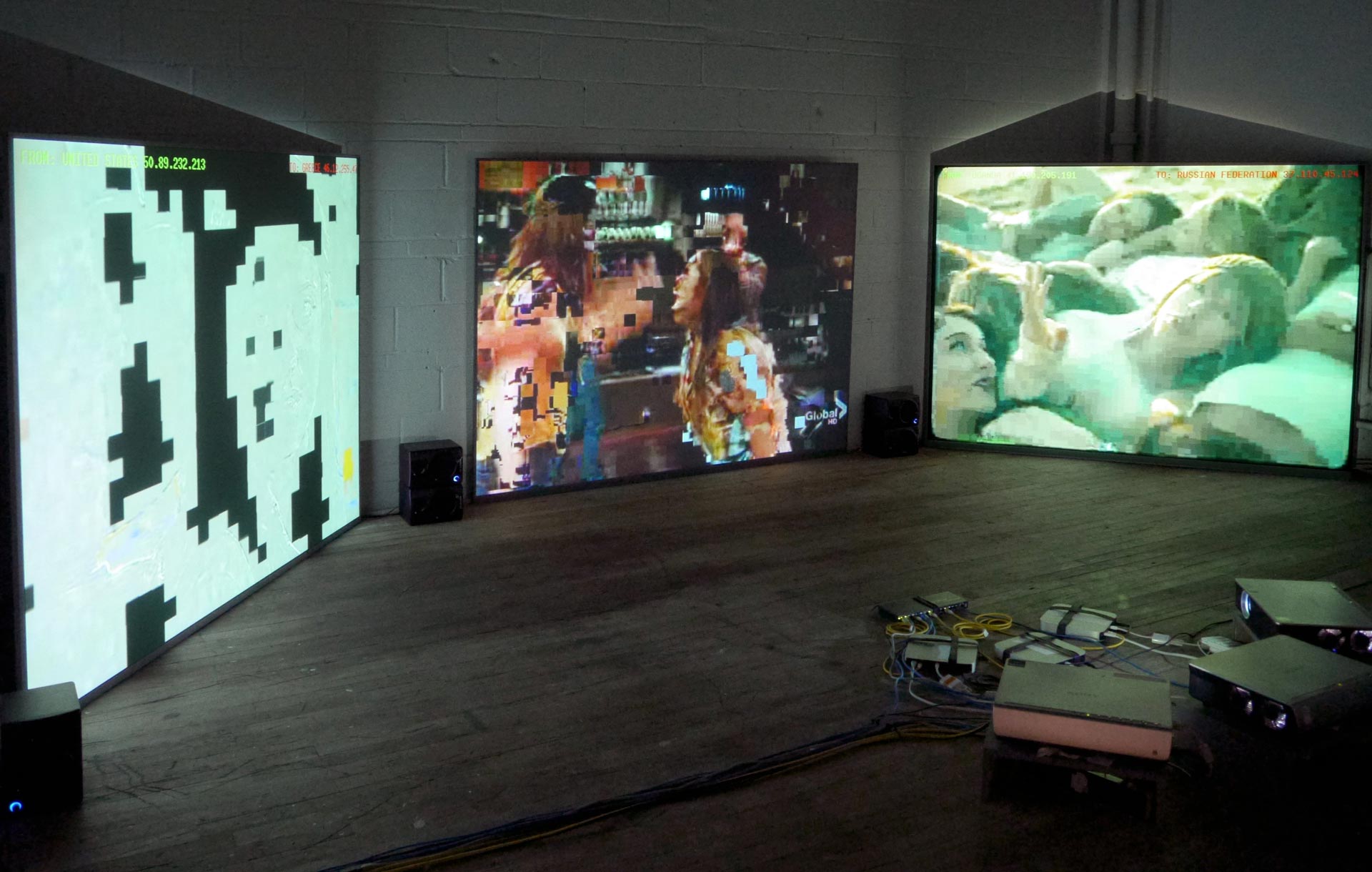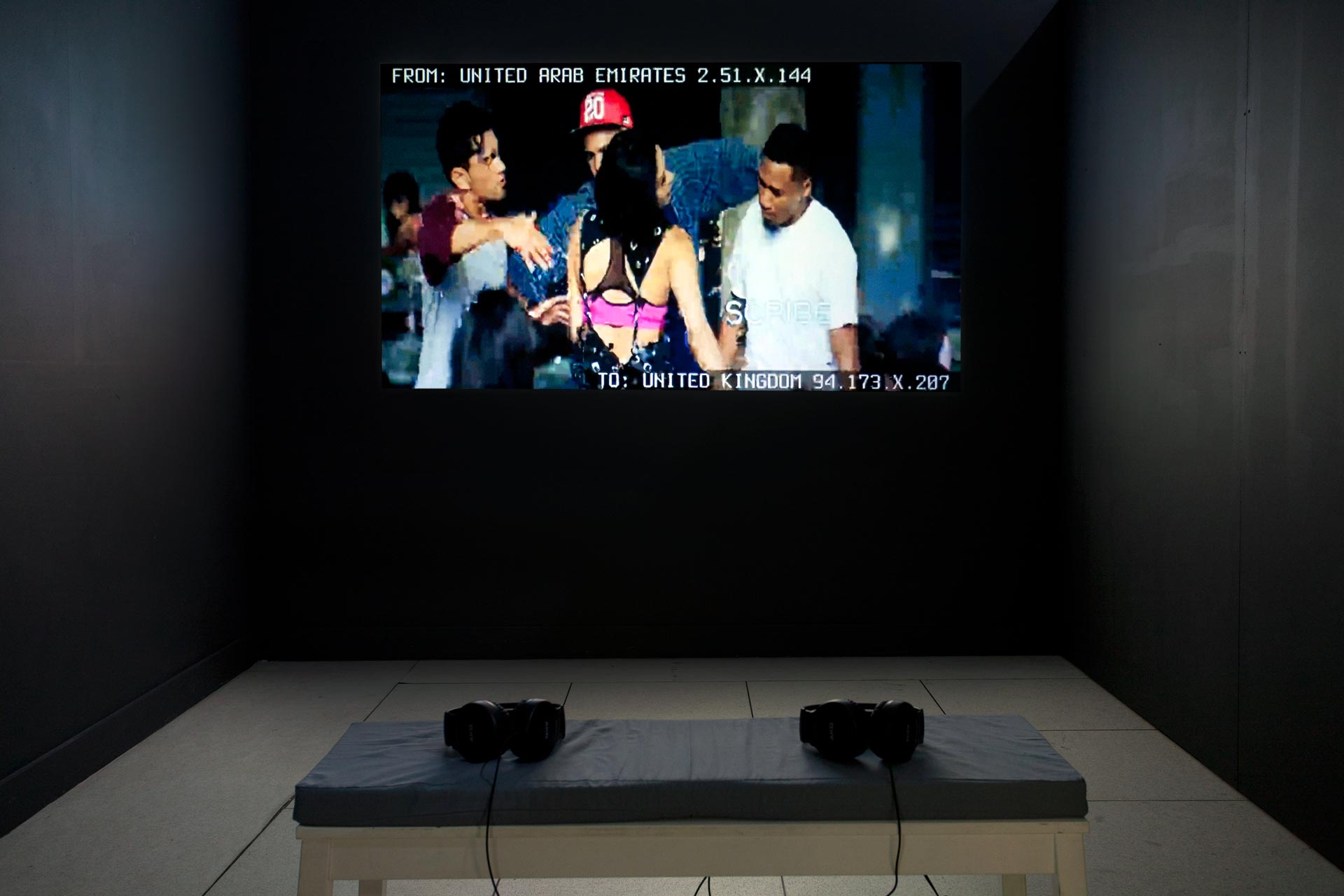 ---
THE PIRATE CINEMA - LIVE PERFORMANCE VERSION - 2014...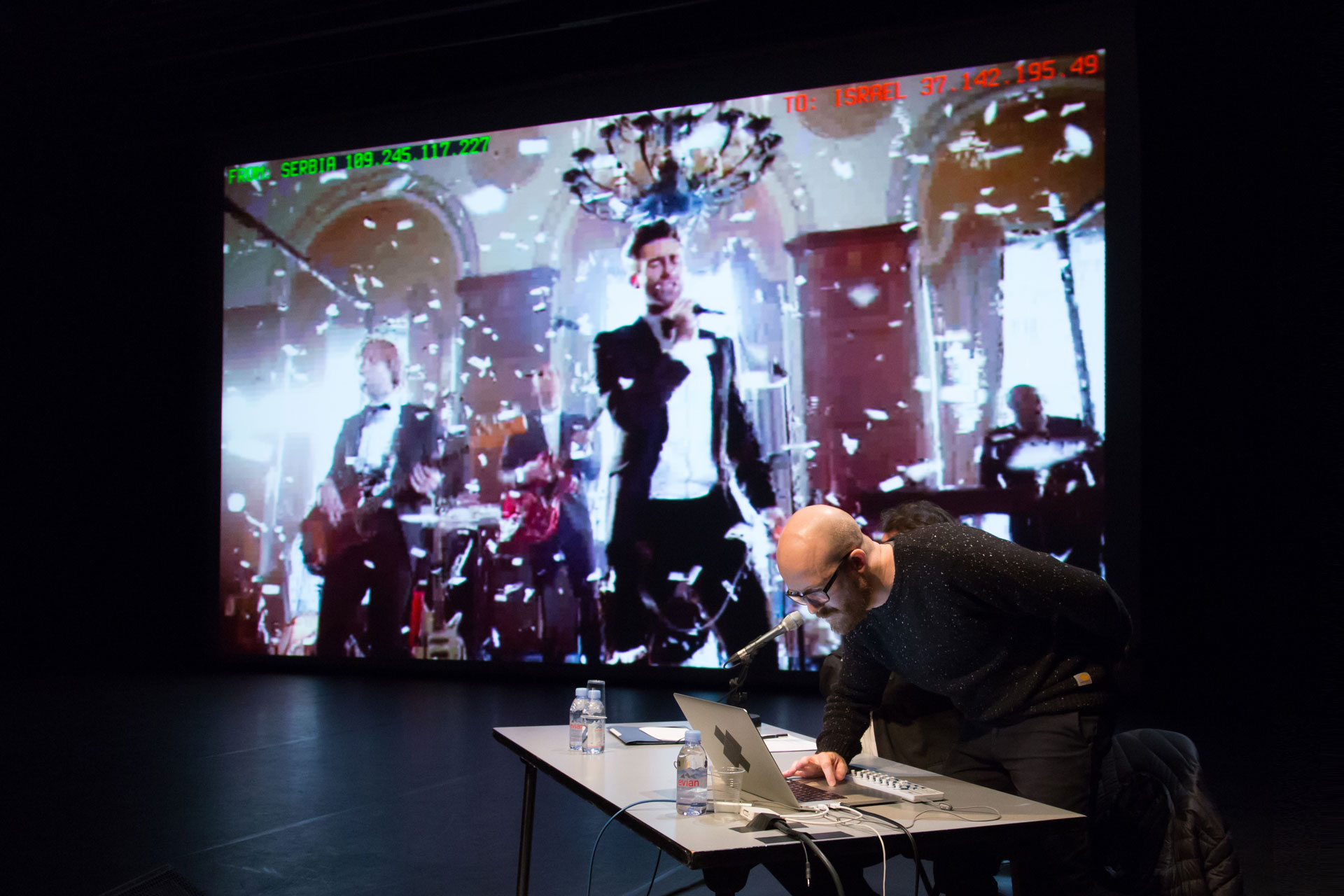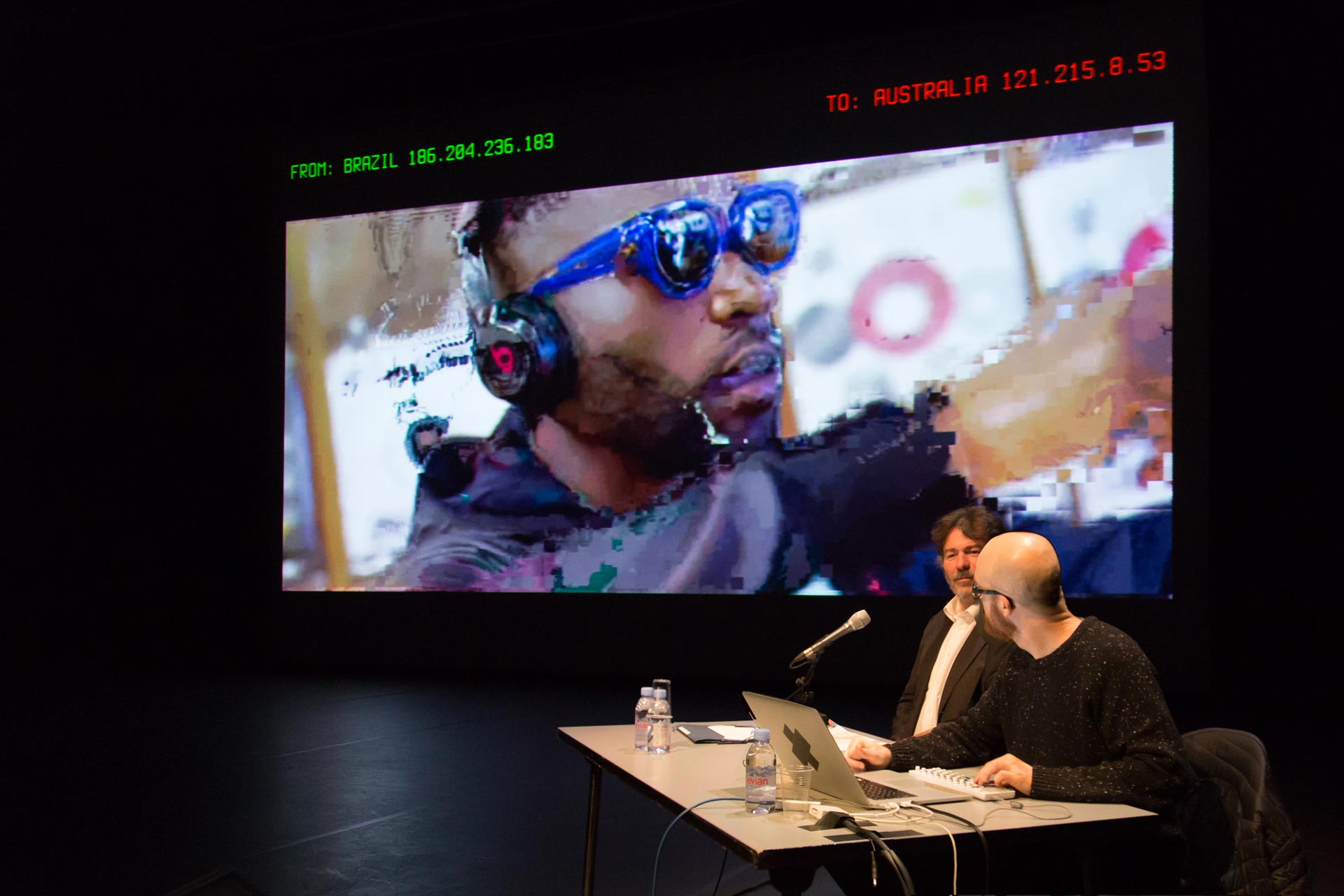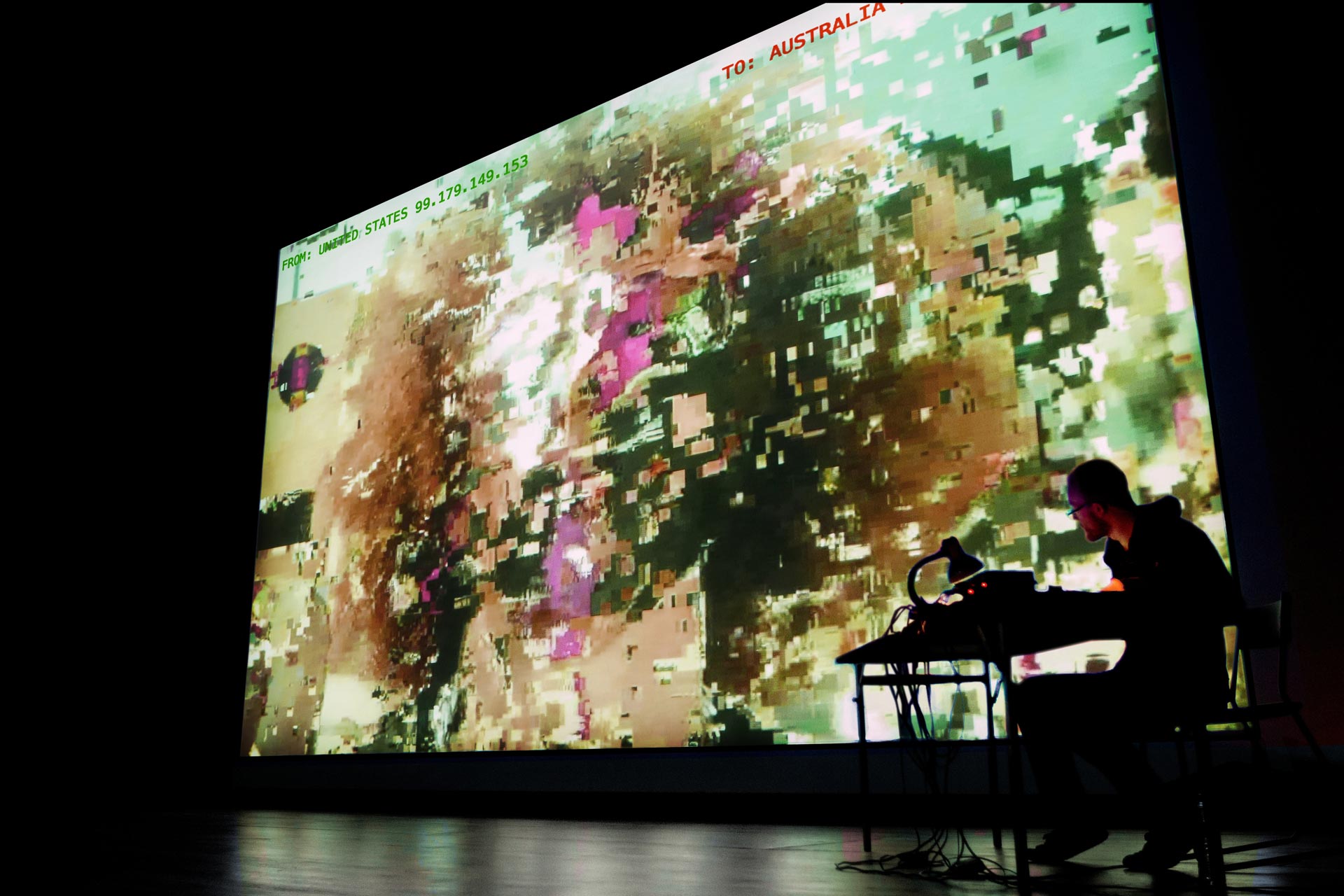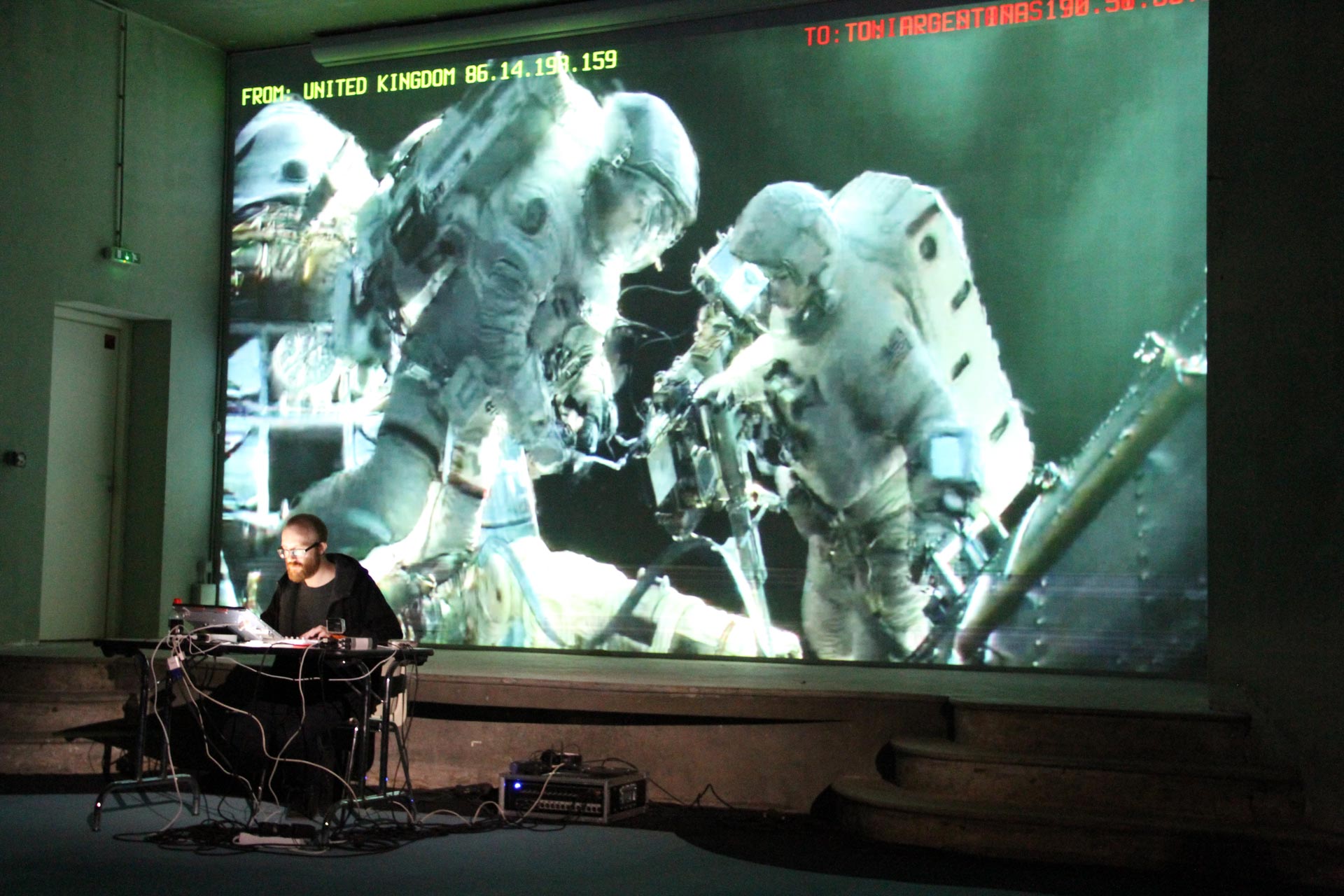 Hors Pistes, Centre Pompidou, FR, 2017
Exhibited & performed at:

Hors Pistes - Centre Pompidou – 2017 (FR)
Mapping Festival, Geneva, 2017 (CH)
Stereolux, Nantes, 2017 (FR)
Real time, Lo Pati. centre d'art, Amposta 2017 (ES)
Home Cinema, OCT, Shenzhen 2017 (CN)
Transmediale Festival, Berlin 2016 (DE)
CYNETART, Dresde 2016 (DE)
Arte Laguna, Venice 2016 (IT)
Arts Santa Mònica, Barcelona 2016 (ES)
Fotomuseum, Winterthur 2016 (CH)
Mirage Festival, Lyon 2016 (FR)
Mal au Pixel, Gaité Lyrique 2015 (FR)
Aksioma, Ljubljana 2015 (SL)
Exit Festival, MAC, Creteil 2015 (FR)
Visages du Monde, Cergy 2015 (FR)
Home Cinema, Maubeuge 2015 (FR)
Palais de Tokyo, Paris 2014 (FR)
North West Film Forum, Seattle 2014 (USA)
Seconde Nature, Aix-en-Provence 2014 (FR)
The Pirate Party of Israel, Tel Aviv 2014 (IL)
Abandon Normal Devices, Liverpool 2013 (GB)
Maison Populaire, Montreuil 2013 (FR)
V-Art Center, Shanghai 2013 (CN)
Smart-City, CMODA, Beijing 2013 (CN)
ShowOff, Paris 2013 (FR)
The Pirate Bay 10 Years Anniversary, Stockholm 2013 (SWE)
Désert Numérique, Saint-Nazaire-le-Désert 2013 (FR)
Eastern Bloc, Montreal 2013 (CA)
La Gaîté Lyrique, Paris 2012 (FR)

Press:

Art Project Allows You To See What People Across The Globe Are Pirating In Real Time in Forbes, jan 2015 (USA)
The Pirate Cinema, A Cinematic Collage Generated by P2P User in We Make Money Not Art (UK)
transmediale 2015: Nicolas Maigret, BitTorrent and The Pirate Cinema in FilmMaker Magazine, feb 2015 (USA)
Die gefährliche Kunst des Filesharings in Die Zeit, jan 2015 (DE)
"Pirate Cinema" Visualizes Torrent Traffic in Online Art Display TorrentFreak, jan 2015 (UK/NL)
The Pirate Cinema Is Just Endless Torrenting And I Can't Stop Watching Gizmodo, jan 2015 (AU)
Watch Snippets of All the Movies People are Pirating in Real Time Motherboard, jan 2015 (USA)
Nicolas Maigret: Piratski film Napovednik, jan 2015 (SLO)
Souriez, vous êtes grillés Tracks, jan 2015 (DE/FR)
Digital Artist Nicolas Maigret Steps Inside the Internet Seattle Weekly, may 2014 (USA)
Pirating the high seas of culture consumption Art Nerd, may 2014 (USA)
THE PIRATE CINEMA TRANSFORMS FILM TORRENTS INTO ILLICIT INTERACTIVE ART Wired USA, may 2013 (USA)
NICOLAS MAIGRET: «MONTRER LE FLUX NUMÉRIQUE À L'ÉCHELLE MONDIALE» Libération, oct 2013 (FR)
The Pirate Cinema, A Cinematic Collage Generated by P2P Users We make money not art, may 2013 (UK)
A Theater That Plays Only Pirated Movies And TV Shows FastCoDesign, june 2013 (USA)
Pirate Cinema: realtime mashup of video being torrented Boing Boing, june 2013 (USA)
The Pirate Cinema in Wired UK, may 2013 (UK)
Pirate Bay User Downloads Visualized in Real-Time Art Installation Torrent Freak, may 2013 (UK/NL)
The Pirate Cinema : quand le piratage devient oeuvre d'art Numérama, may 2013 (FR)