---
THE STORY
High on fossil fuels, modernity managed to normalize the ideology according to which humankind could detach itself from the constraints and material limitations of planetary life. These constraints become harder to ignore, as the planet's holding capacity begins to falter, and its resources run dry.
How are we to reconnect with the physical, material and living reality of the world on which we depend entirely ? Even today, the prevailing economic models still seem to ignore the extent to which necessary circulation of matter and energy depends on crucial physical processes for the regeneration of the biosphere or for human societies.
The artistic research project Solar Share envisions the radical consequences of an economic model reconnected to the elementary sources of energy coming from the Sun, the Earth and the cosmos. It aims to revise the prevailing narratives with an acknowledgement of the material conditions required for the persistence of our form of life in the biosphere. It proposes futuristic visions of new relationalities between humans, life and the Earth system.
The computational and diagrammatic models that have emerged from this artistic research aim to engage a broad public with vital information from science. By externalizing, in artistic and aesthetic forms, the energy systems that govern the planet's metabolism, these models are intended to supplement critical discussion of our prospects on this planet, both in specialized spheres and in the general public, with an emphasis on the unquantifiable and missing data which lurks behind and threatens to undermine scientific, political and economic confidence.
CONCEPTION: DISNOVATION.ORG, BARUCH GOTTLIEB
INSTALLATION, DIGITAL VIDEO WITH SOUND, 08:22 | 2020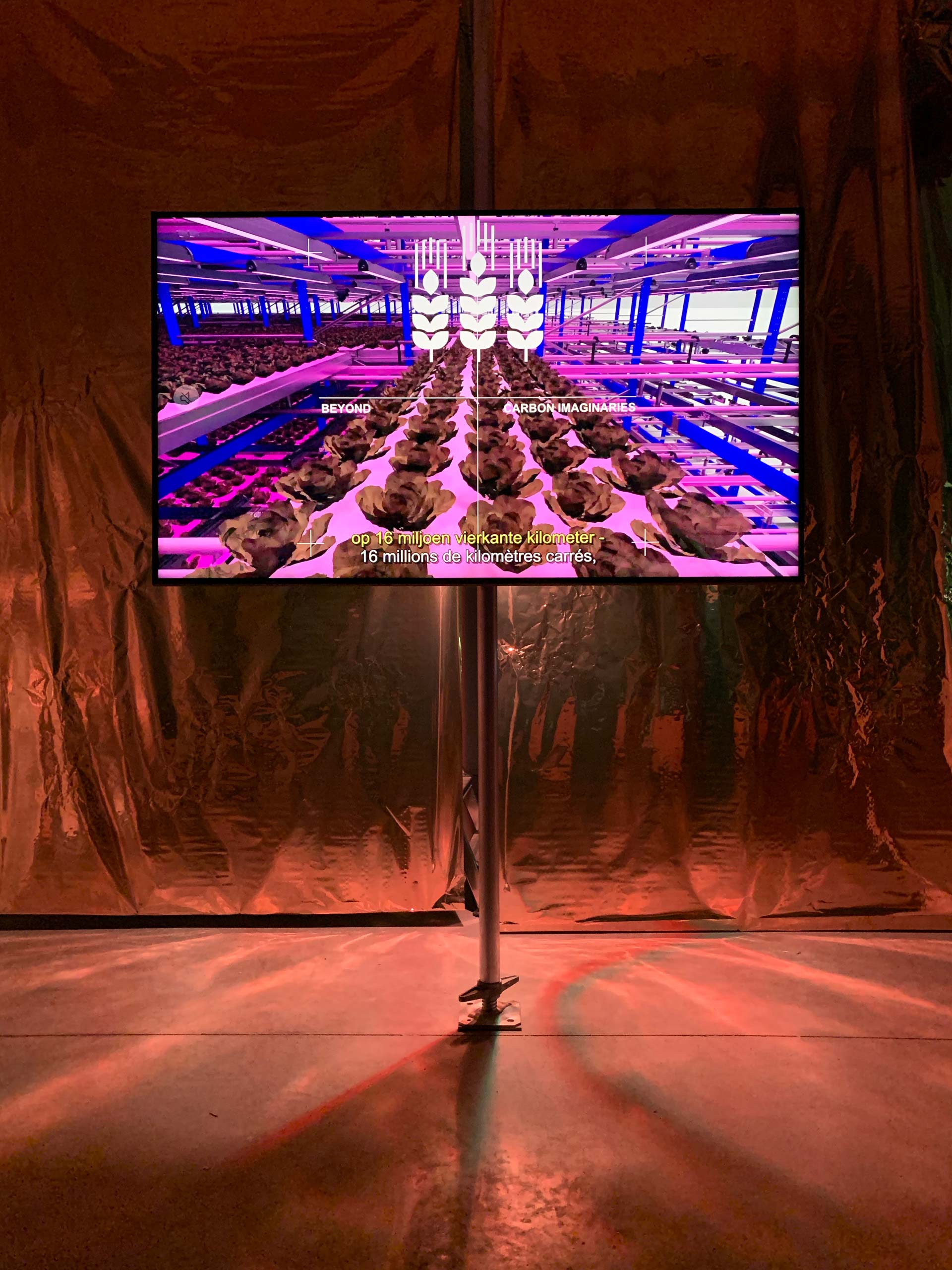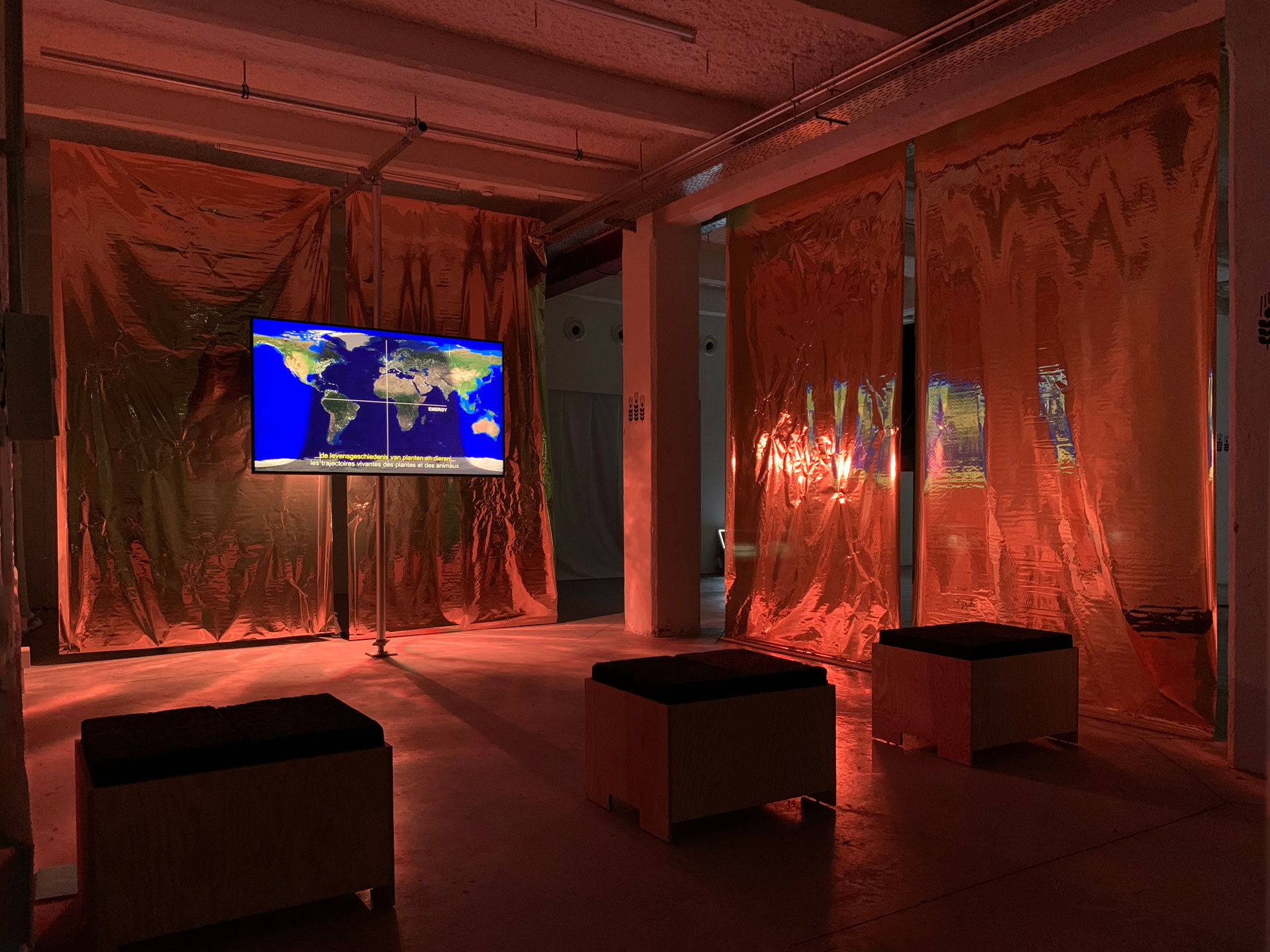 ---
THE FARM
" Vertical farms in cities can produce — profitably — hydroponically grown leafy greens, tomatoes, peppers, cucumbers, and herbs, all with far less water than conventional agriculture requires. But the produce contains merely a trace of carbohydrates and hardly any protein or fat. So they cannot feed cities, especially not megacities of more than 10 million people. For that we need vast areas of cropland planted with grains, legumes, and root, sugar, and oil crops, the produce of which is to be eaten directly or fed to animals that produce meat, milk, and eggs. The world now plants such crops in 16 million square kilometres — nearly the size of South America — and more than half of the human population now lives in cities. [...] Vertical farms can't substitute for much farmland, and the claims made for them have been exaggerated. " [1]
Solar Share (The Farm) seeks to demonstrate a fundamental and paradoxical challenge to the proposal from agro-industries (and preppers alike) to provide for the nutritional needs of large urban populations in times of climate uncertainties, through grow houses and other artificially controlled environments. This 1 square meter experiment makes manifest the vast technical infrastructure and energy flows required to grow such staple as wheat in an artificial environment. In today's economy it is profitable to artificially produce agricultural products with high water content such as leafy greens and tomatoes.
However, from a systemic understanding, this apparent profitability depends on the availability of cheap fossil energy, unaccounted for resource extraction and pollution all over the globe, incurred in subordinate processes from mining and electronics manufacture, to international freight. The present experiment seeks to reveal the numerous layers of invisibilised interdependencies, and to provide a speculative reference reckoning of the incalculable ecosystem services at play in conventional agriculture.
[1] Vaclav Smil (June 2018). IEEE-Spectrum.
CONCEPTION: DISNOVATION.ORG, BARUCH GOTTLIEB
WEB DEVELOPER: JÉROME SAINT-CLAIR
HARDWARE DEVELOPERS: VIVIEN ROUSSEL, THOMAS DEMMER
INSTALLATION, 1M2 OF AUTOMATED CULTIVATION, LED GROW LIGHTS, CAMERA, LIVE VIDEO STREAMING | 2020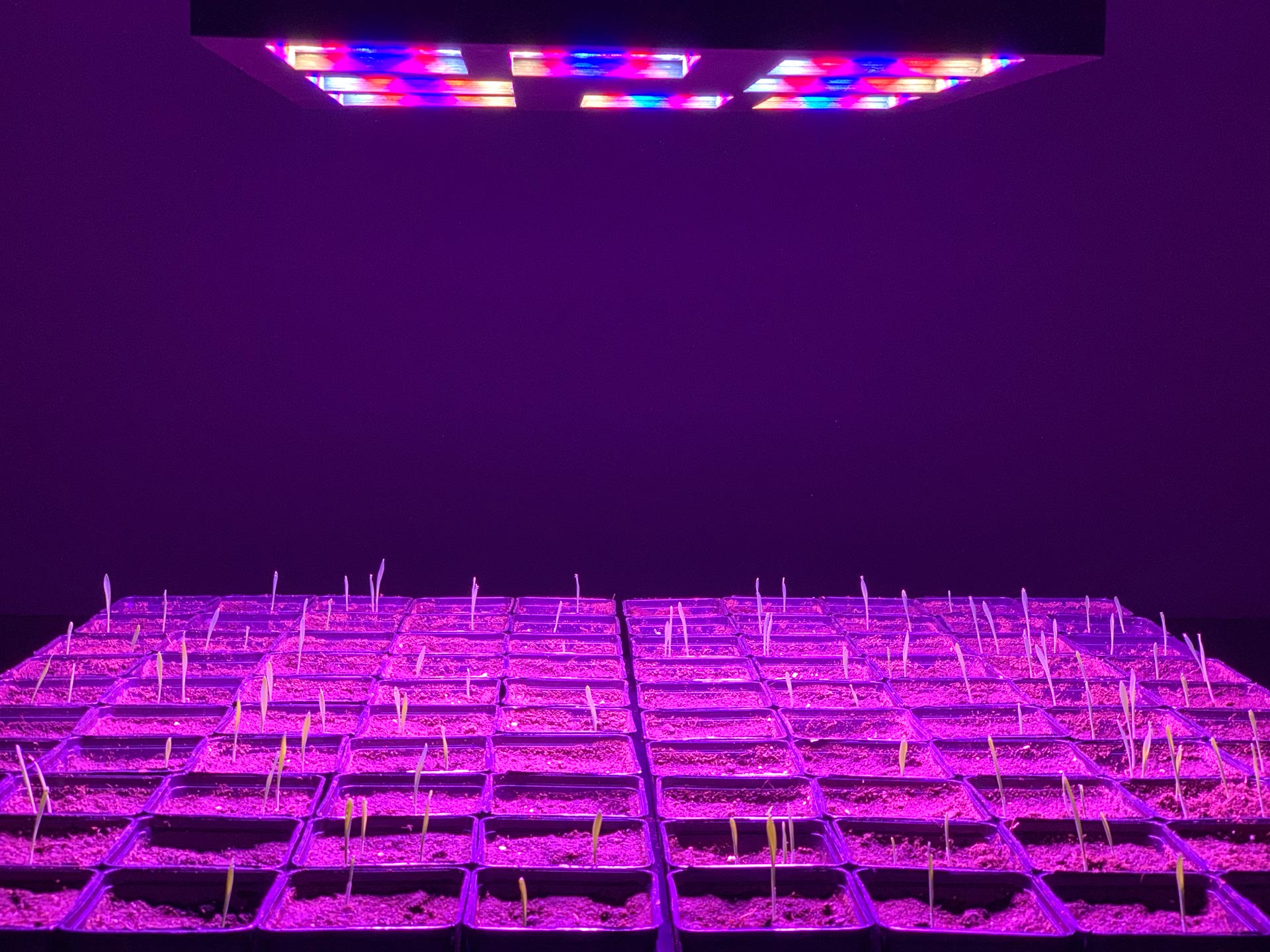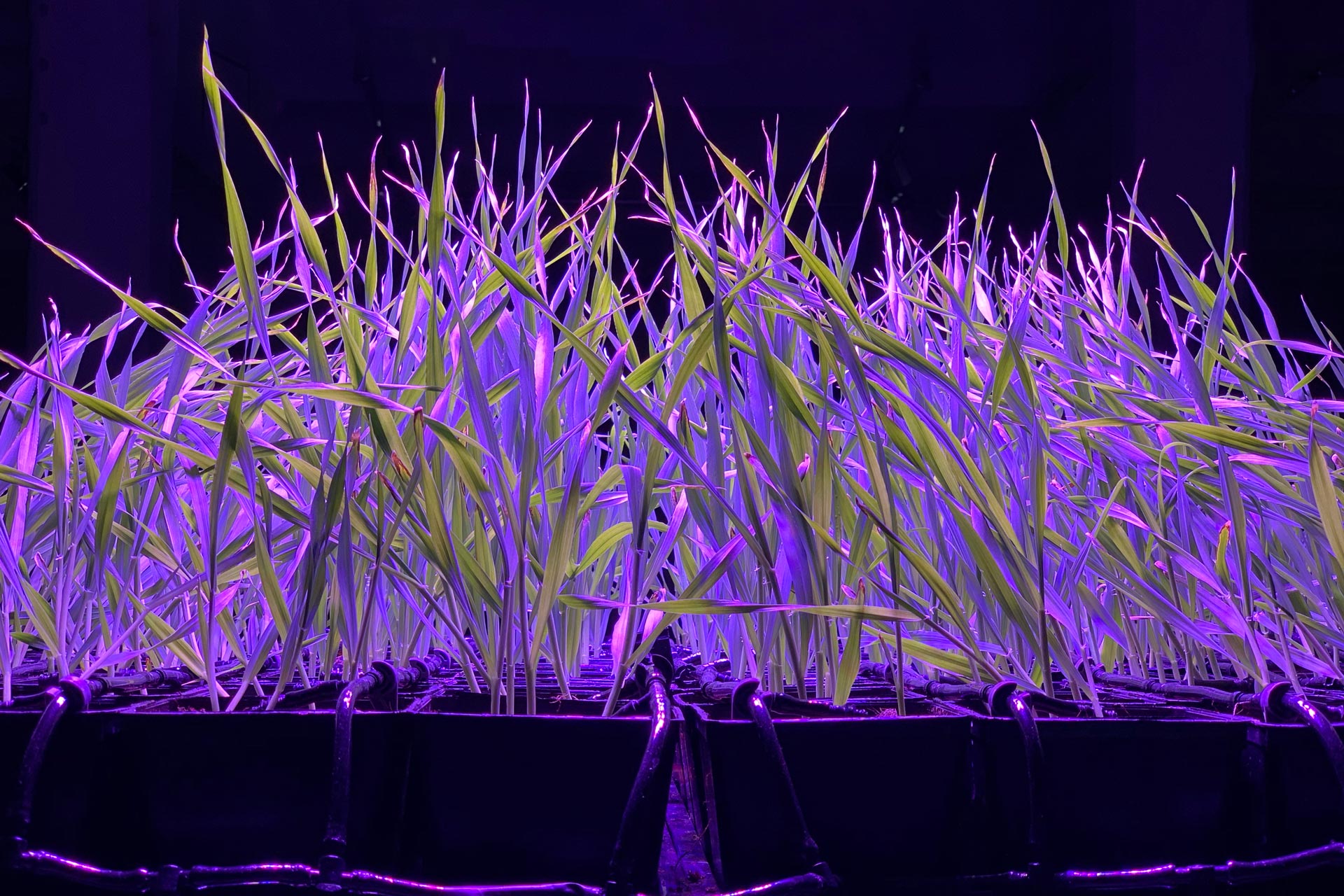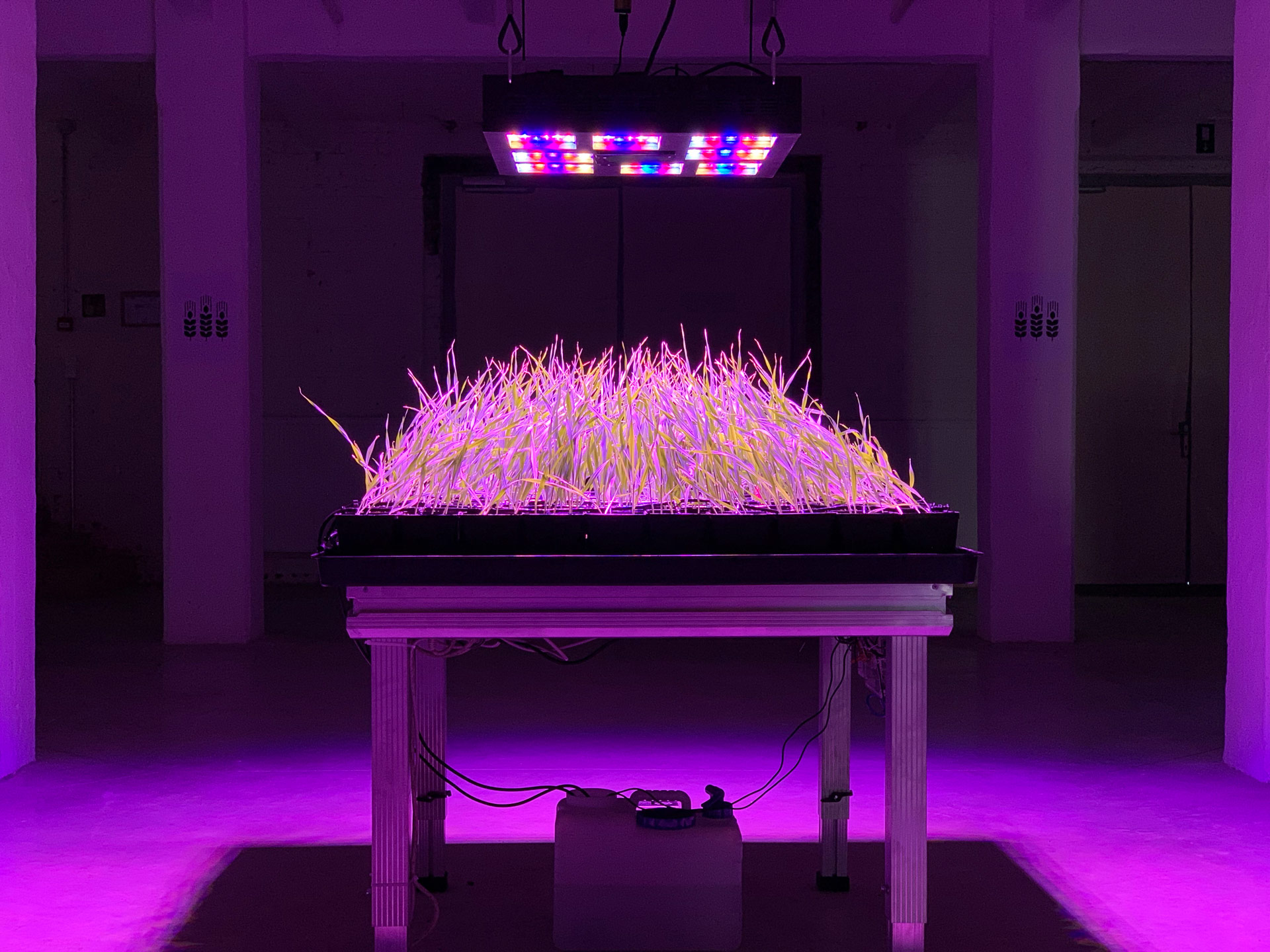 ---
THE COINS
The controversial concept of Emergy [1] attempts a comprehensive accounting of the energy stocks and flows involved in the reproduction of life, and thus of human activities on the planet. Emergy allows for factors such as extremely slow and vast processes to be acknowledged as vital contributions to life, one we can no longer take for granted in an age of accelerating technological advance. Solar energy emerges as central in Emergy modelling, responsible for most of the sources of energy we rely upon today, including wind, tides and, especially, fossil fuels.
Some areas of the world get more sunlight than others, some "use" more sunlight than others. In Europe we are able to use considerably more energy than we receive from the sky through imports in various concentrated forms, principally petroleum, coal and natural gas. Brussels is one of the 5 least sunny cities in Europe, receiving only 3 kWh/m2 on an average day, and only 1000 kWh/m2 a year [2], yet Brussels' energy consumption is comparable to most European cities.
Solar Share coins are made of PET plastic, a petroleum bi-product, ancient sunlightconcentrated in organic material over millions of years. A few grams of PET has the same embodied energy as 1m2 of yearly solar irradiation in Brussels. How might our understanding of economics change if the instruments we used for money had an equivalent value to the solar energy required to materially produce them? As a speculative response, each Solar Share coin embodies the average solar irradiation received at a specific urban location.
[1] The Emergy methodology is based on the theory by Howard T. Odum.
https://en.wikipedia.org/wiki/Emergy
[2] Solargis, Global Horizontal Irradiation.
https://solargis.com/maps-and-gis-data
CONCEPTION: DISNOVATION.ORG, BARUCH GOTTLIEB
WEB DEVELOPER: JÉROME SAINT-CLAIR
INSTALLATION, PLEXIGLASS FRAMES, COINS MADE OF PLASTIC WASTE, (PRECIOUS PLASTIC, PET) | 2020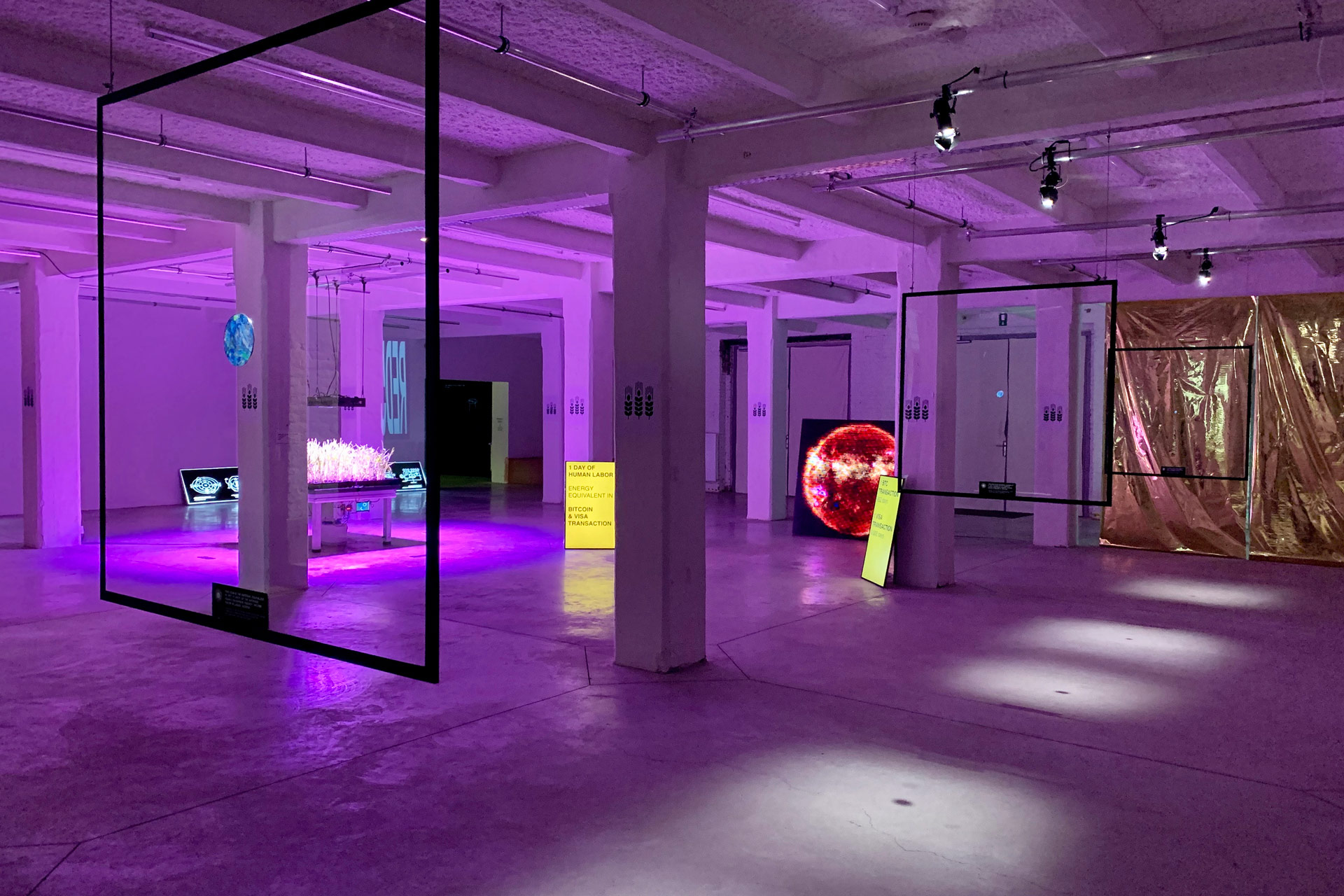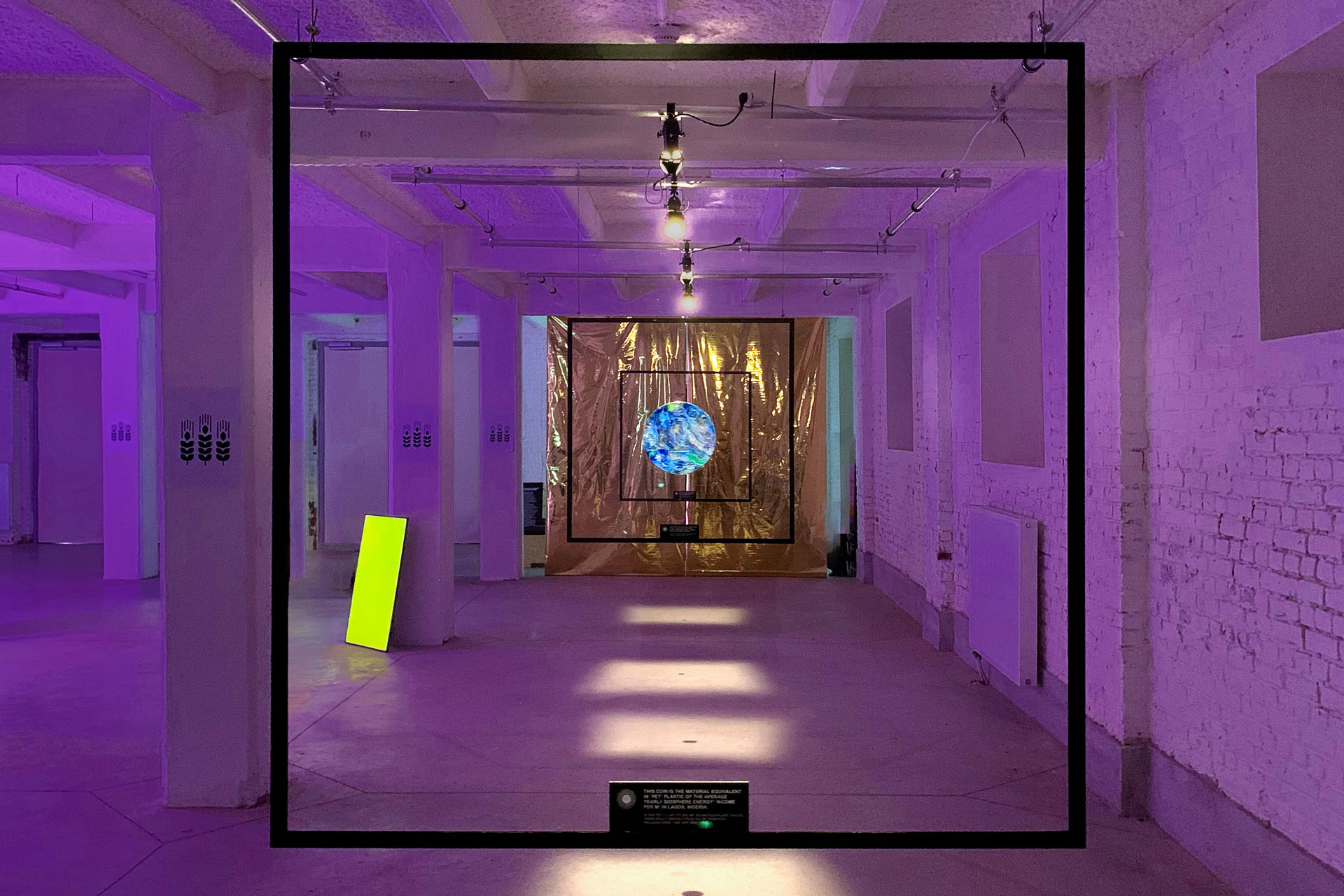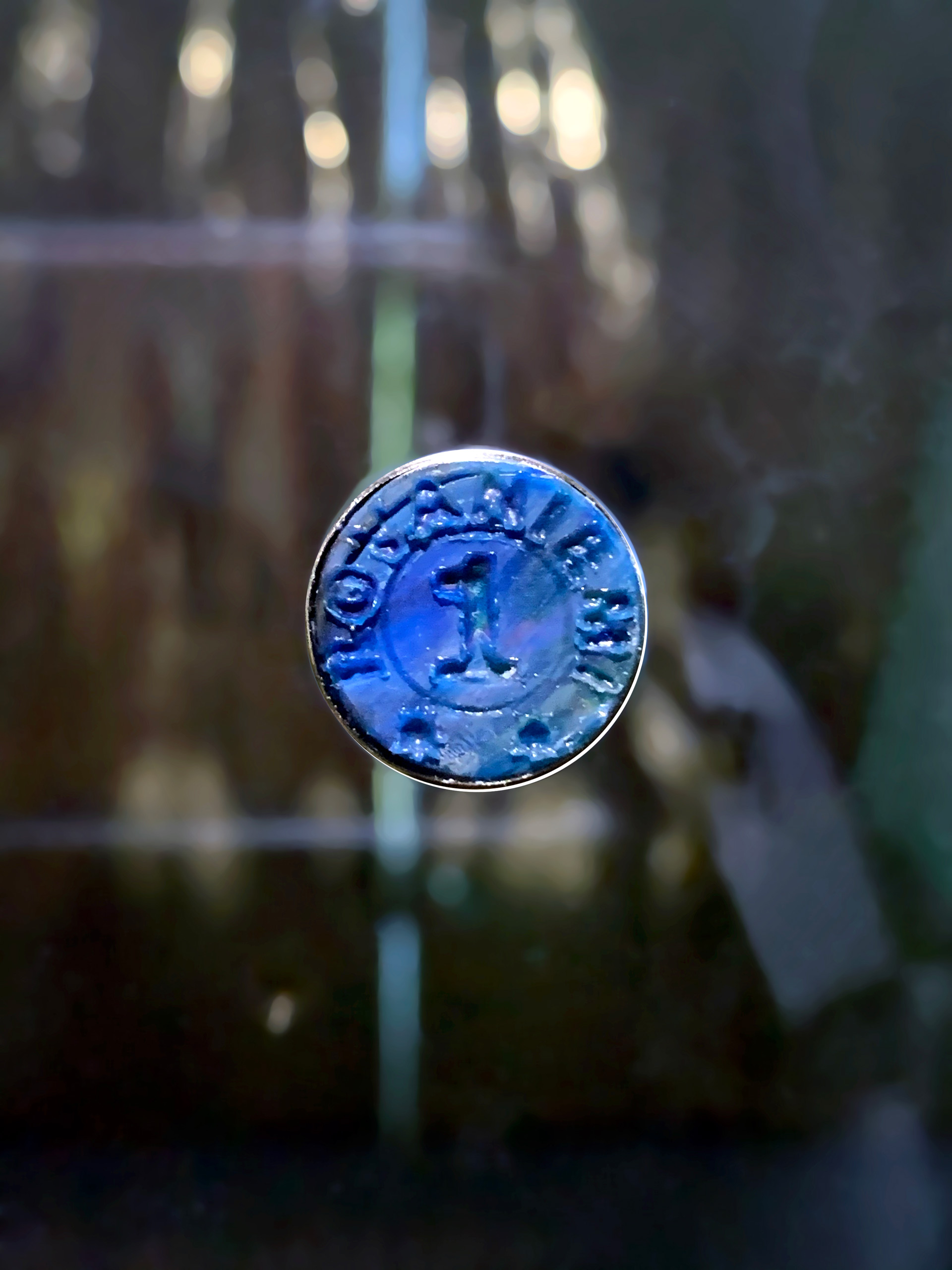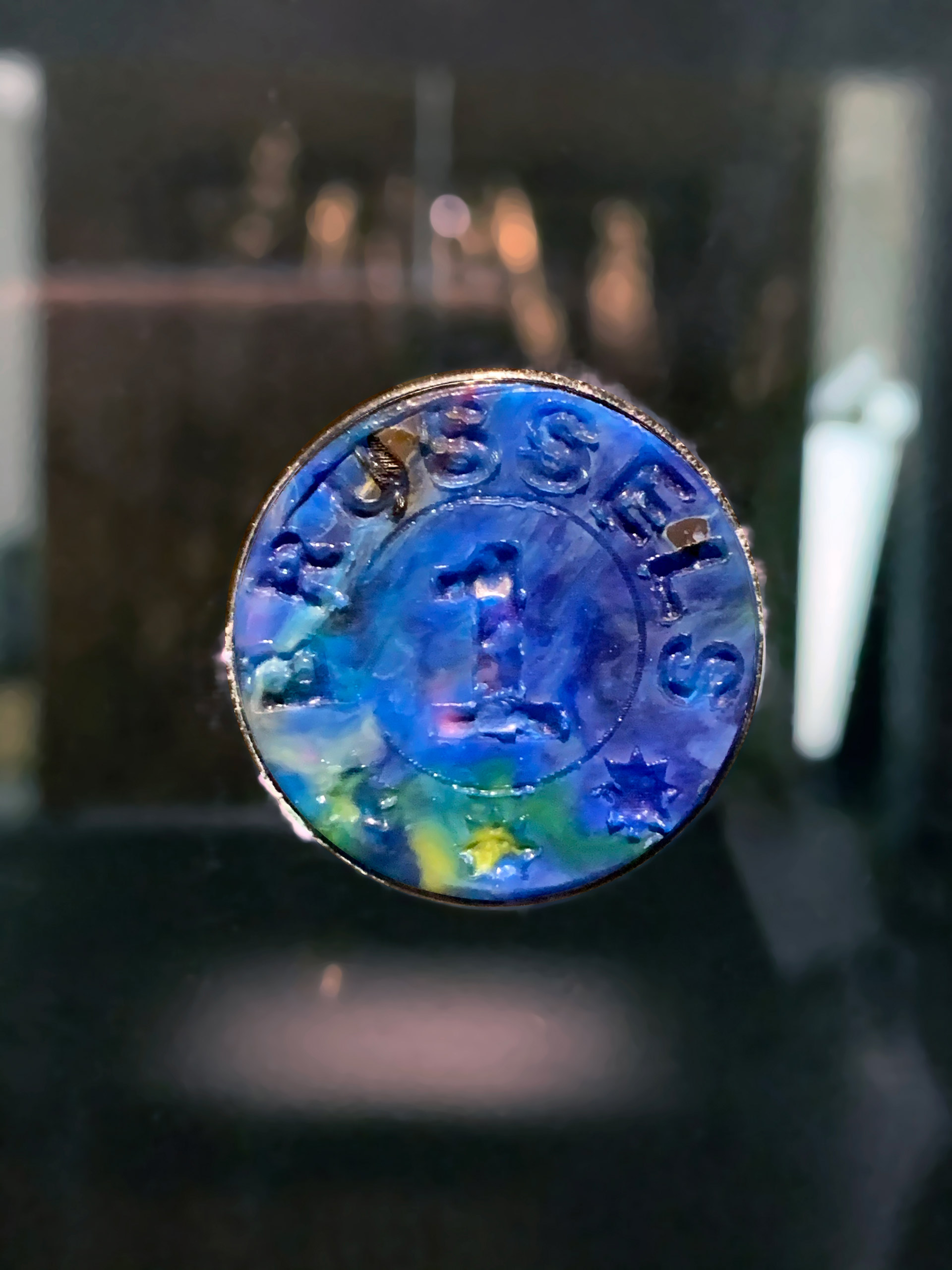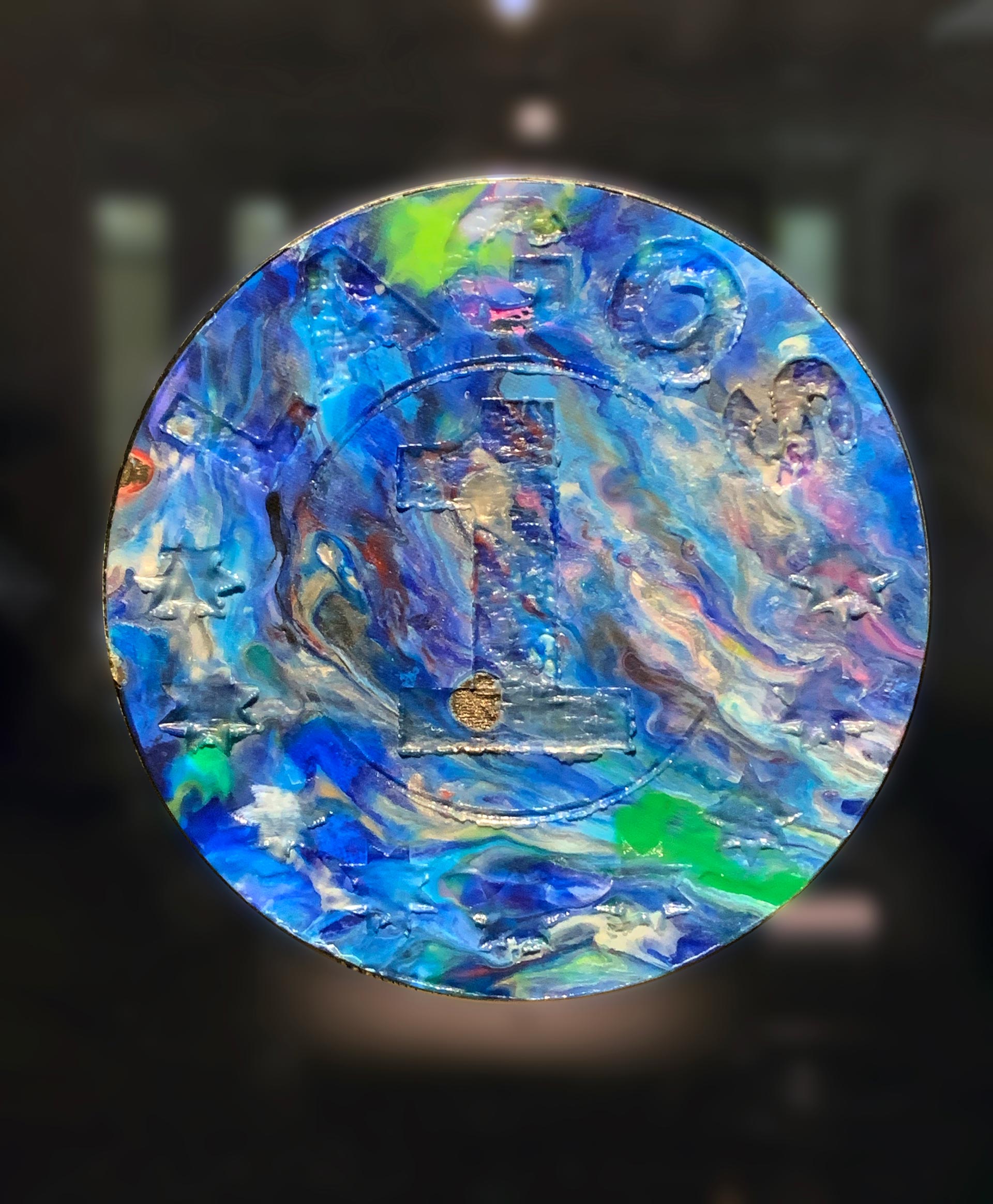 ---
THE DIAGRAMS
CONCEPTION: DISNOVATION.ORG, BARUCH GOTTLIEB
GRAPHIC DESIGN: MACHA SAVYKINE
INSTALLATION, LED PANNELS, VINYL STICKER | 2020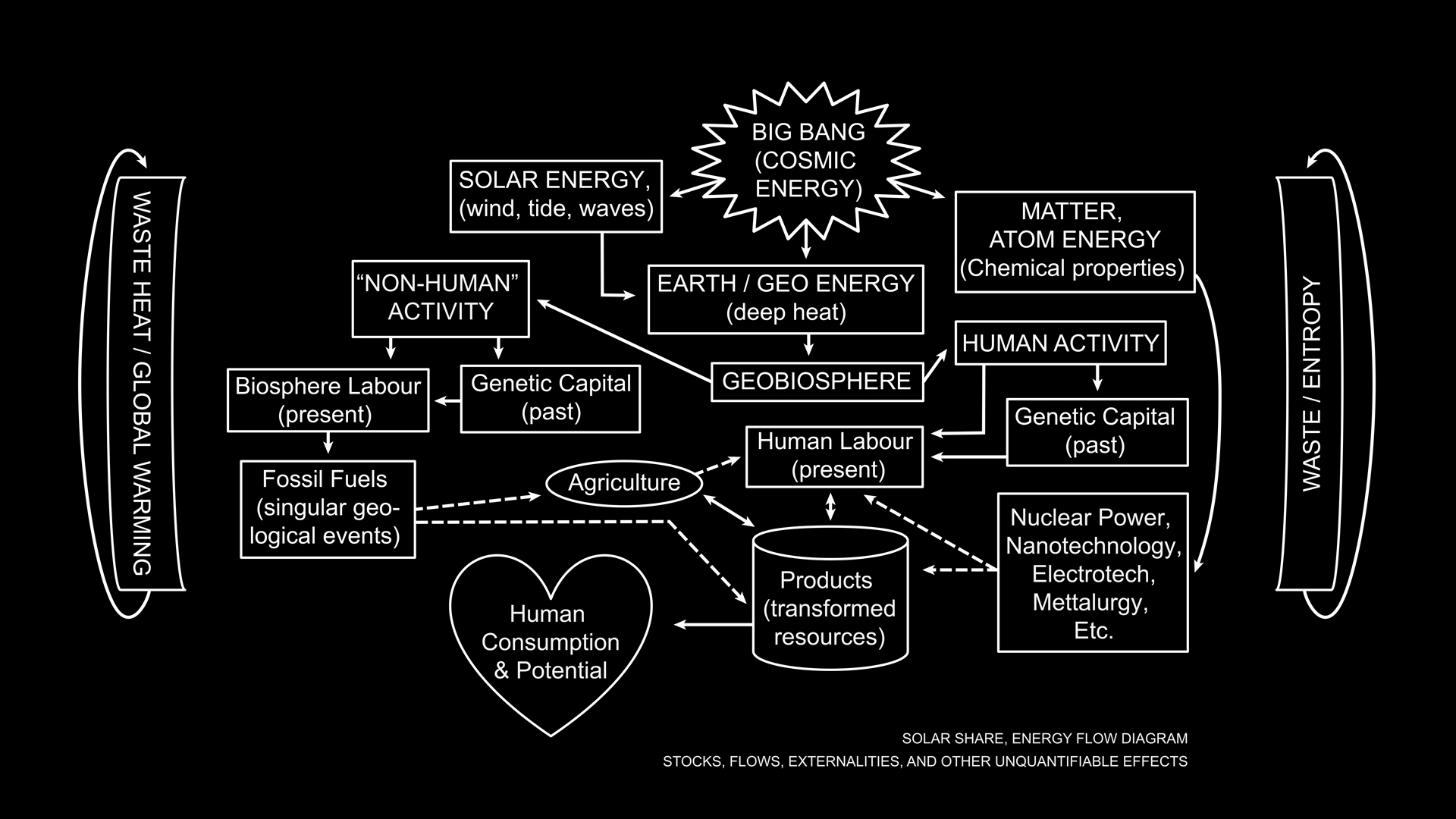 ---
Exhibited at:
Ongoing exhibition "Post-Growth" at 3bis F, Aix-en-Provence, 2020 [FR]
Ongoing exhibition "Post-Growth" at iMAL, Brussels, 2020 [BE]
Press Kit and HD Images:
Flickr
Partners of the project:
iMAL
Brussels (BE),
Chroniques
Aix-en-Provence (FR).
Special thanks to Olivier Le Corre and Laurent Truffet, École des mines de Nantes (FR).