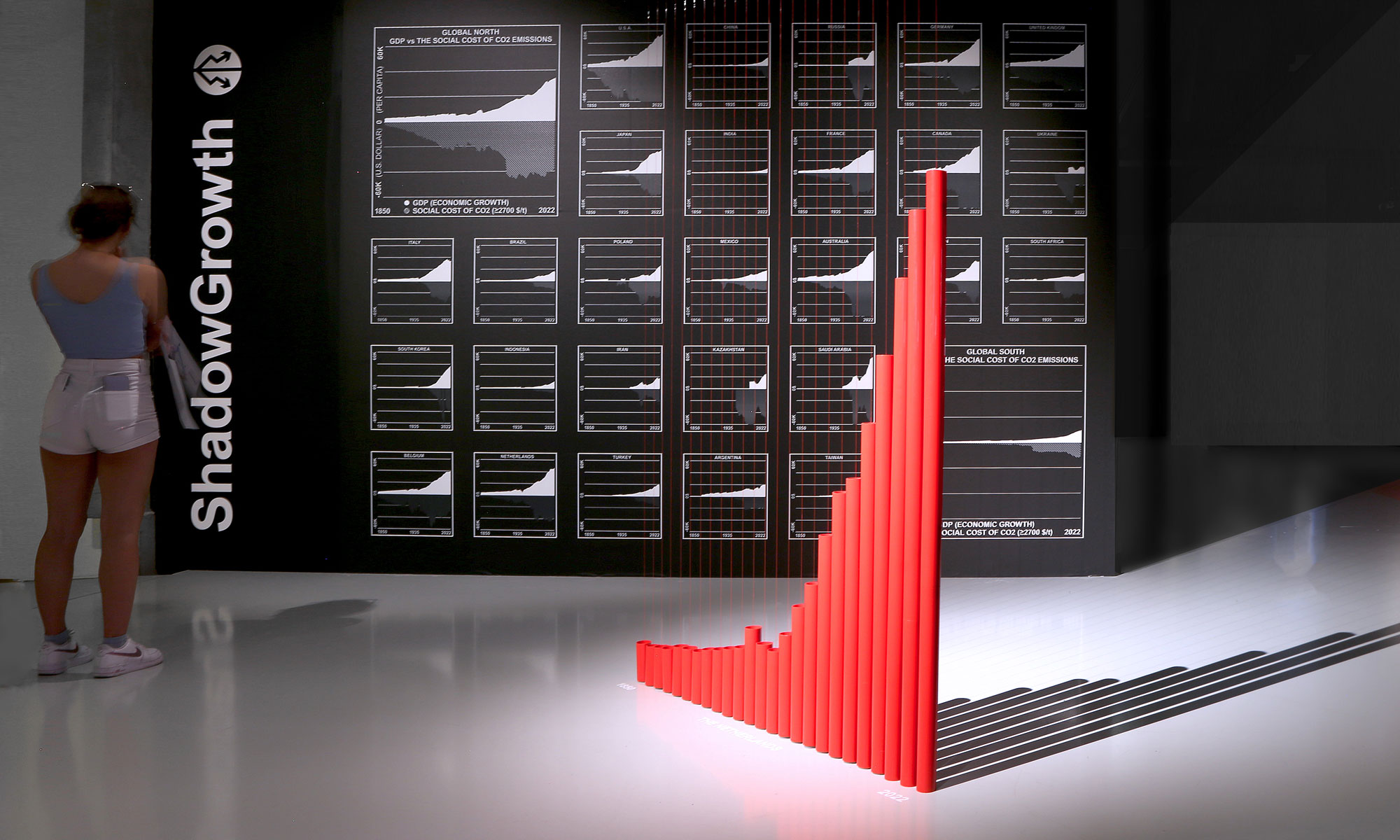 SUMMARY
SHADOW GROWTH (STATEMENT)
SHADOW GROWTH (VIDEO INTRODUCTION)
SHADOW GROWTH (EXHIBITION)
SHADOW GROWTH (CONTEXT)
---
SHADOW GROWTH [THE VAST OBSCURITY BENEATH THE UPWARDS ARROW]


ECONOMIC GROWTH VS. THE RESULTING SOCIAL COST OF CO2 EMISSIONS
This artistic provocation seeks to highlight the planetary processes that are obscured in the shadow of GDP economic growth, such as fossil fuel combustion and the social costs of CO2 emissions. ShadowGrowth prototypes strategies that can challenge or replace the iconic GDP growth curve to better address today's urgent ecosystemic challenges. ShadowGrowth confronts conventional GDP with the inherent "social cost of carbon emissions", a cost which the most ethical estimates situate between $2.7k to $200k per ton of CO2-eq in long-term damage to society (Archer et al., "The Ultimate Cost of Carbon", 2020) [*].
CONCEPTION: DISNOVATION.ORG, BARUCH GOTTLIEB
WEB DEVELOPER: JÉRÔME SAINT-CLAIR
INSTALLATION, DIAGRAMS, POSTER, 3D VIDEO | 2021
DOWNLOAD THE POSTER
PRESS IMAGES
DEDICATED WEBSITE
---
SHADOW GROWTH (VIDEO INTRODUCTION)
Introduction (4'34") Part of Post Growth Prototypes - Video essay by DISNOVATION.ORG and Baruch Gottlieb, 2021
---
SHADOW GROWTH (EXHIBITION)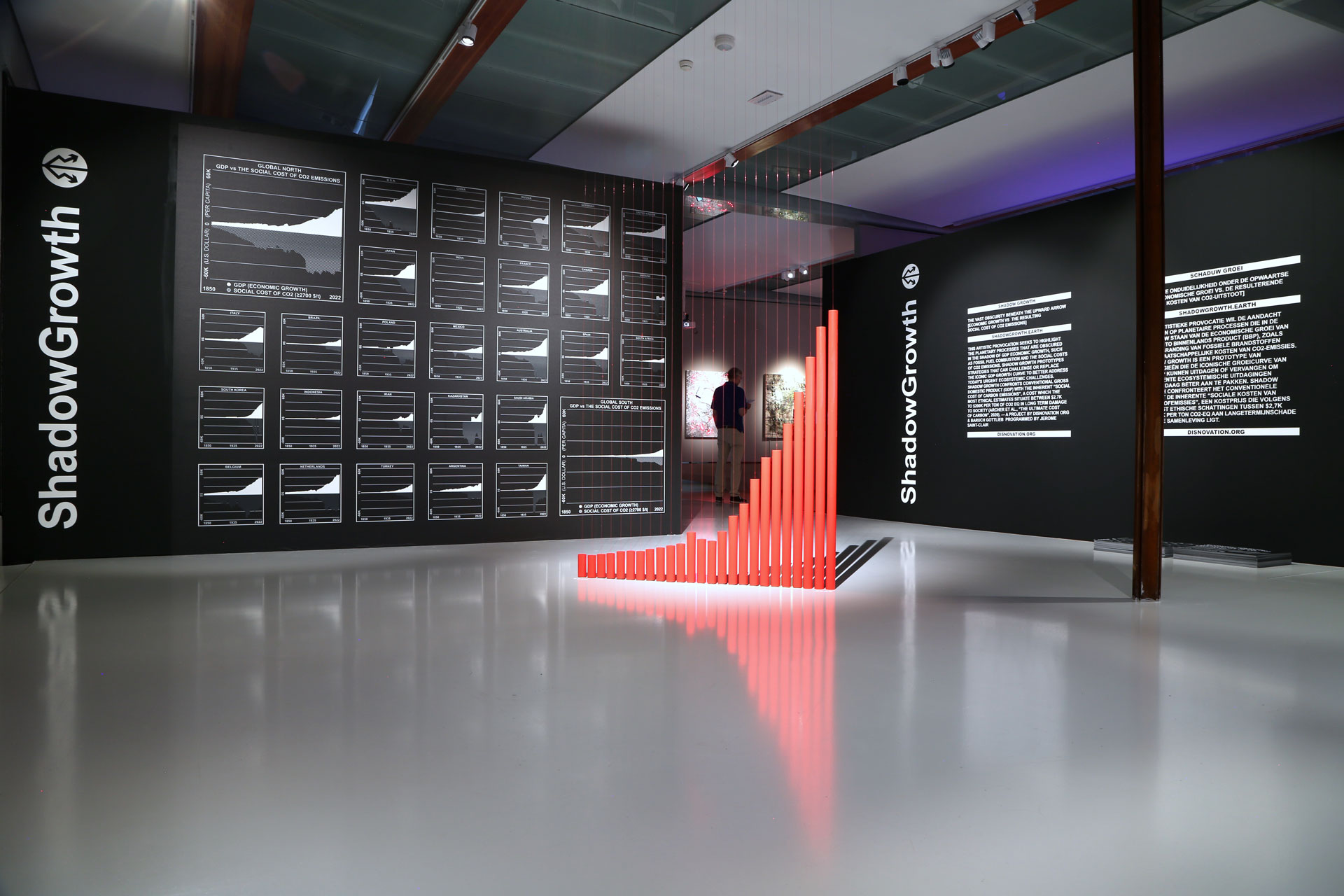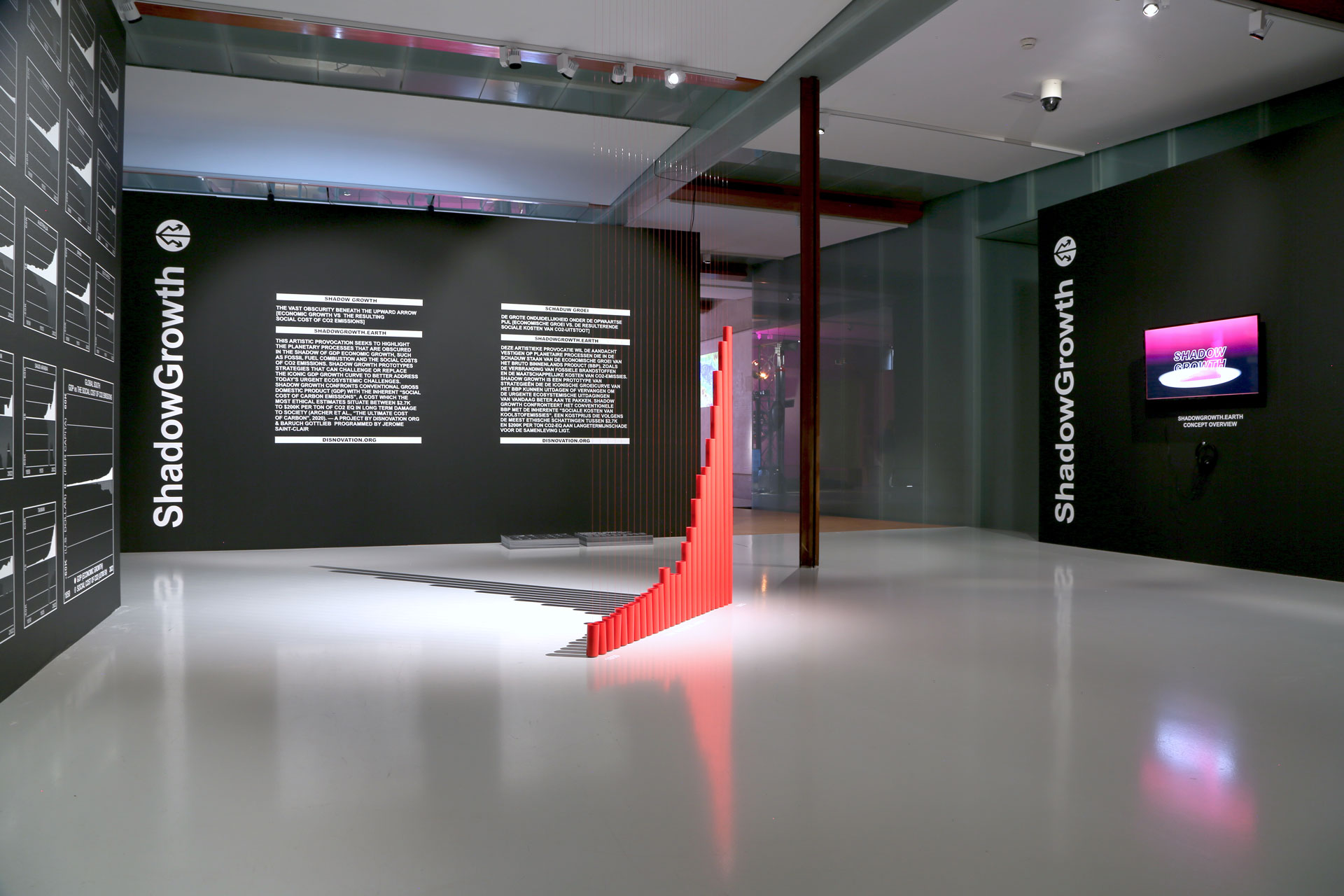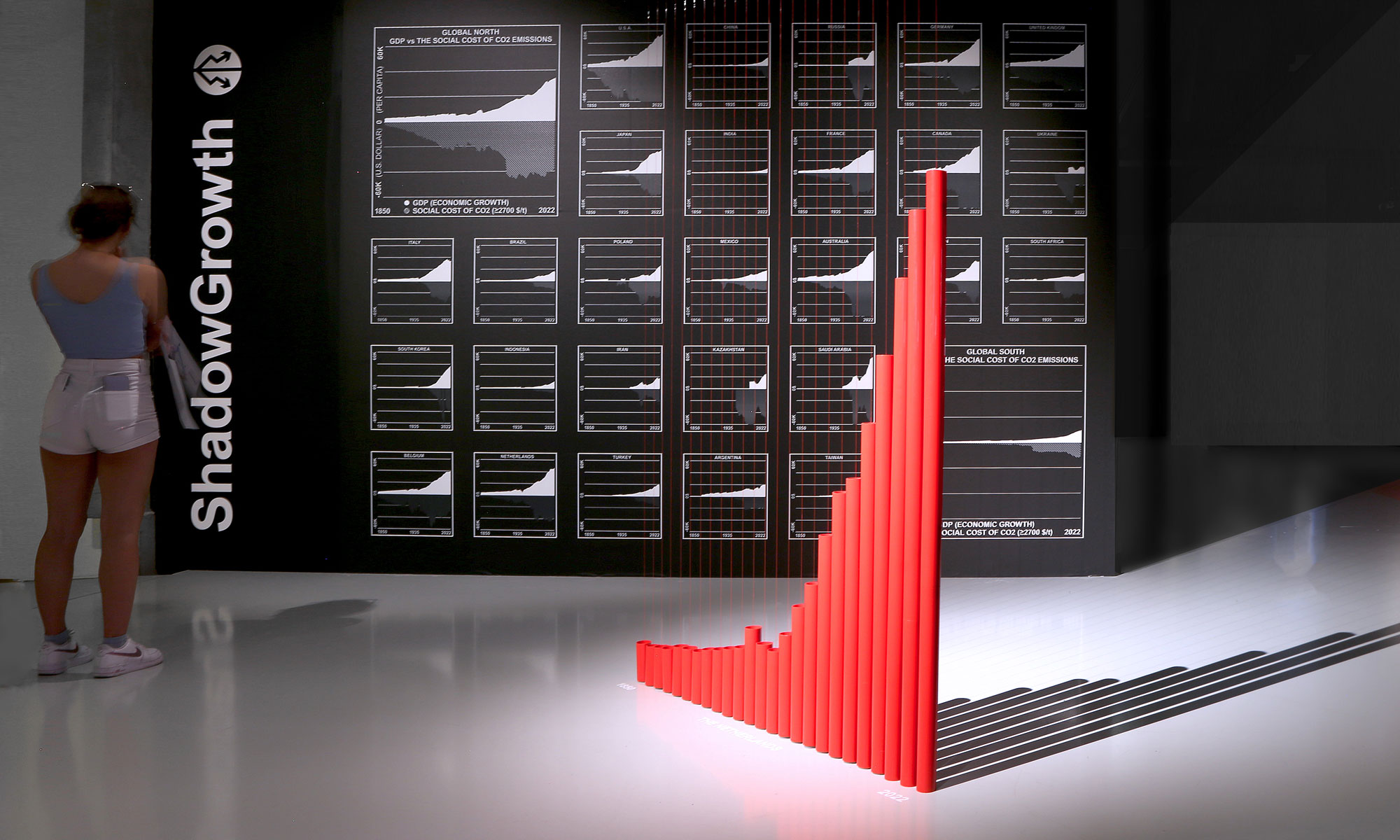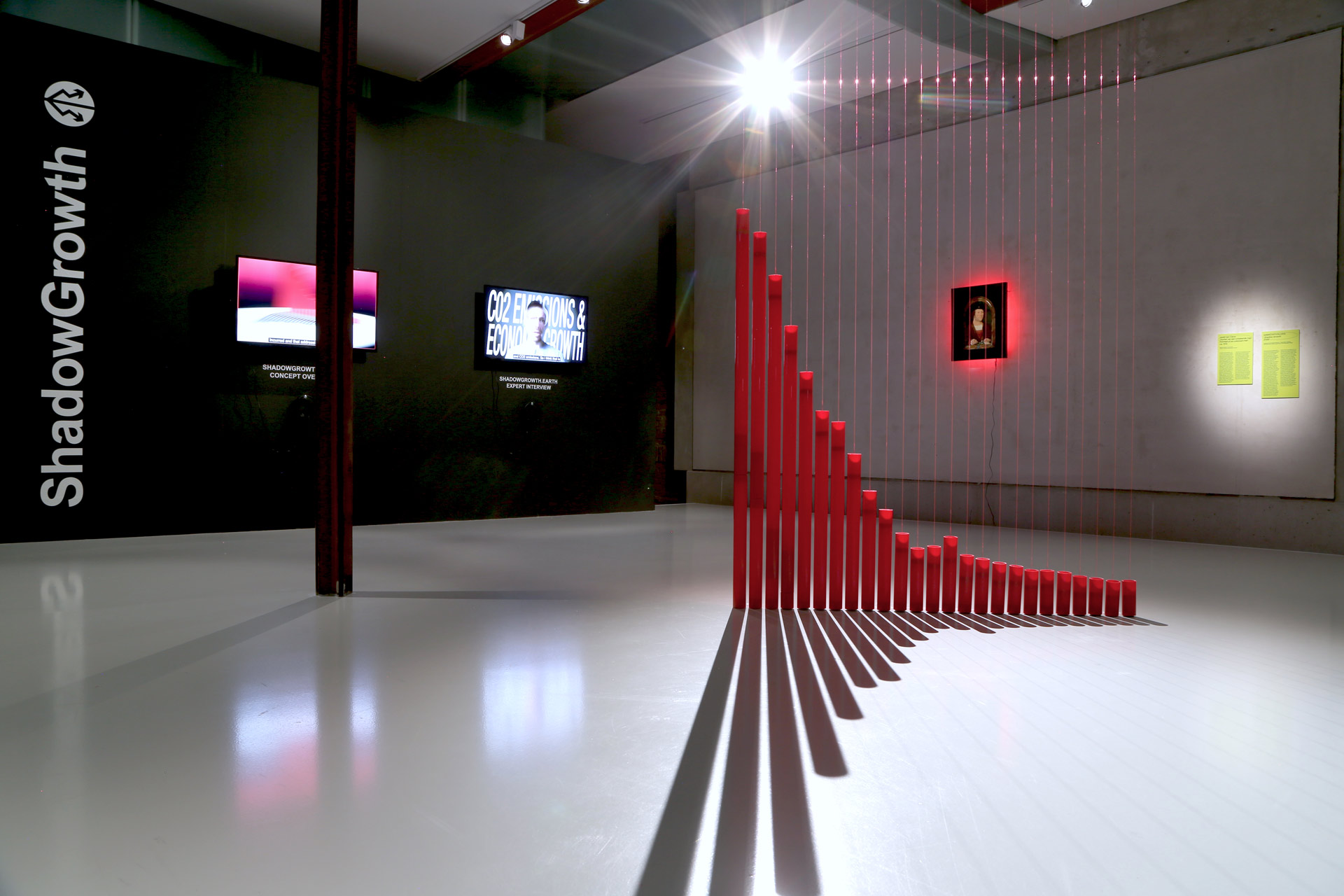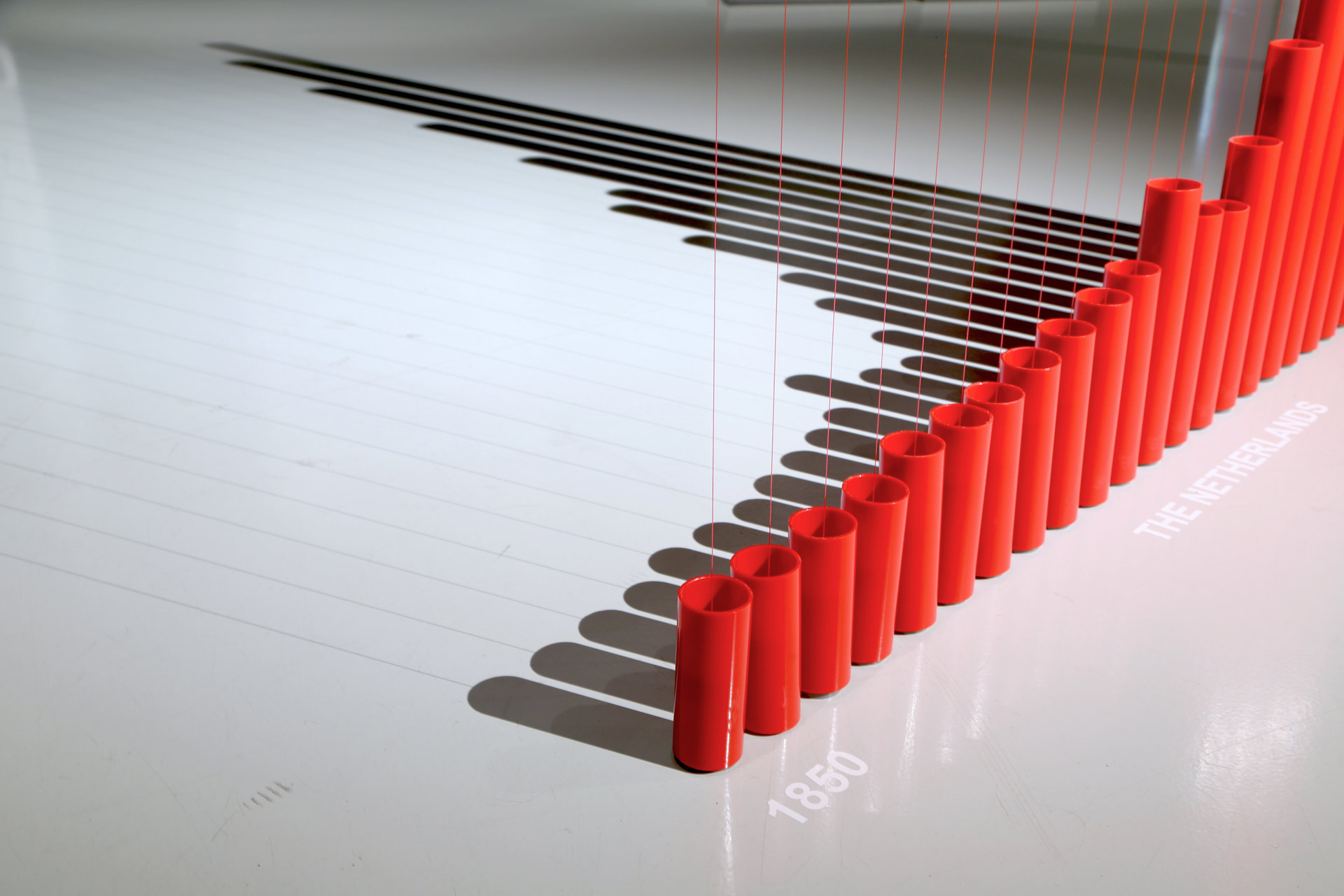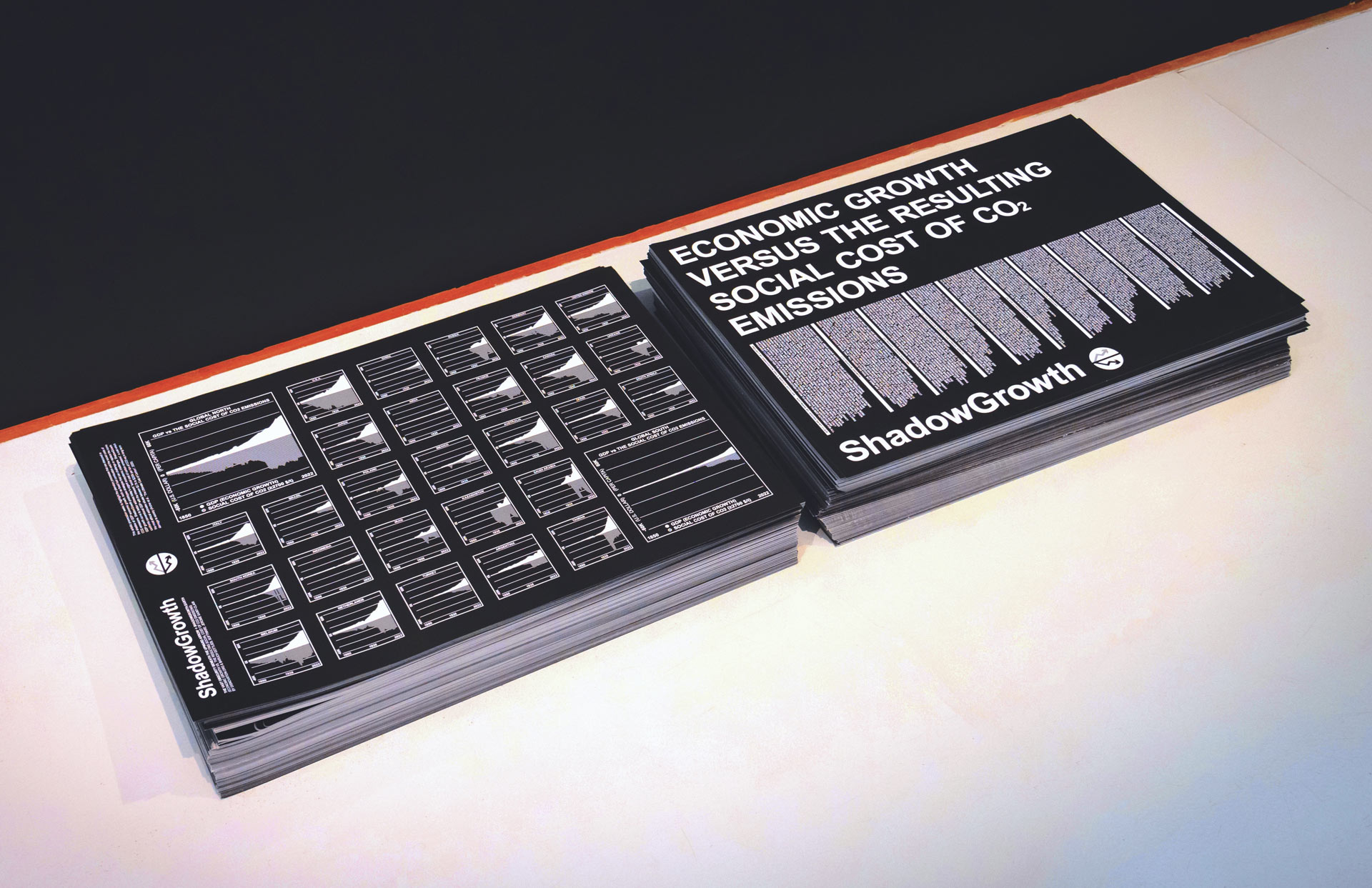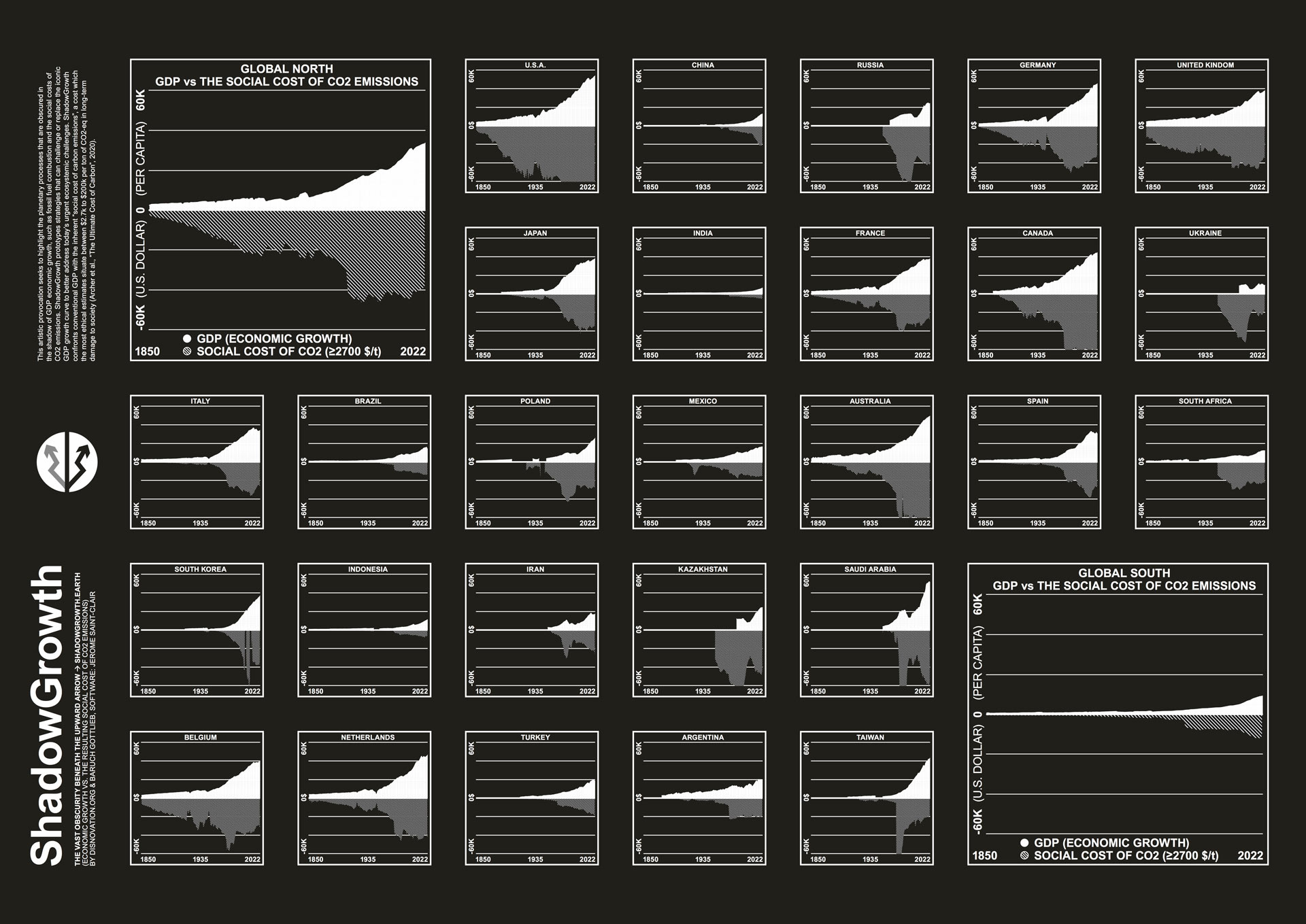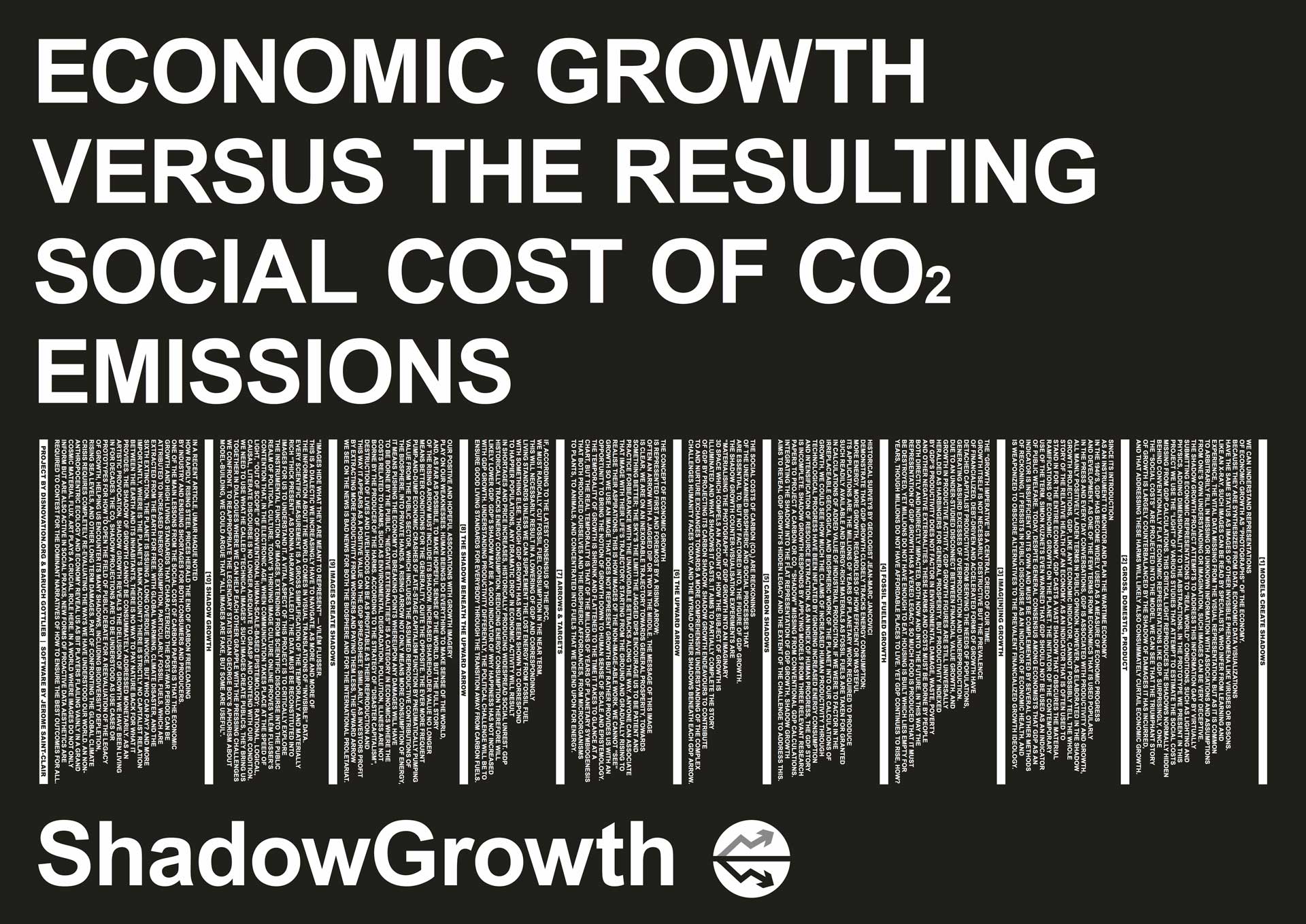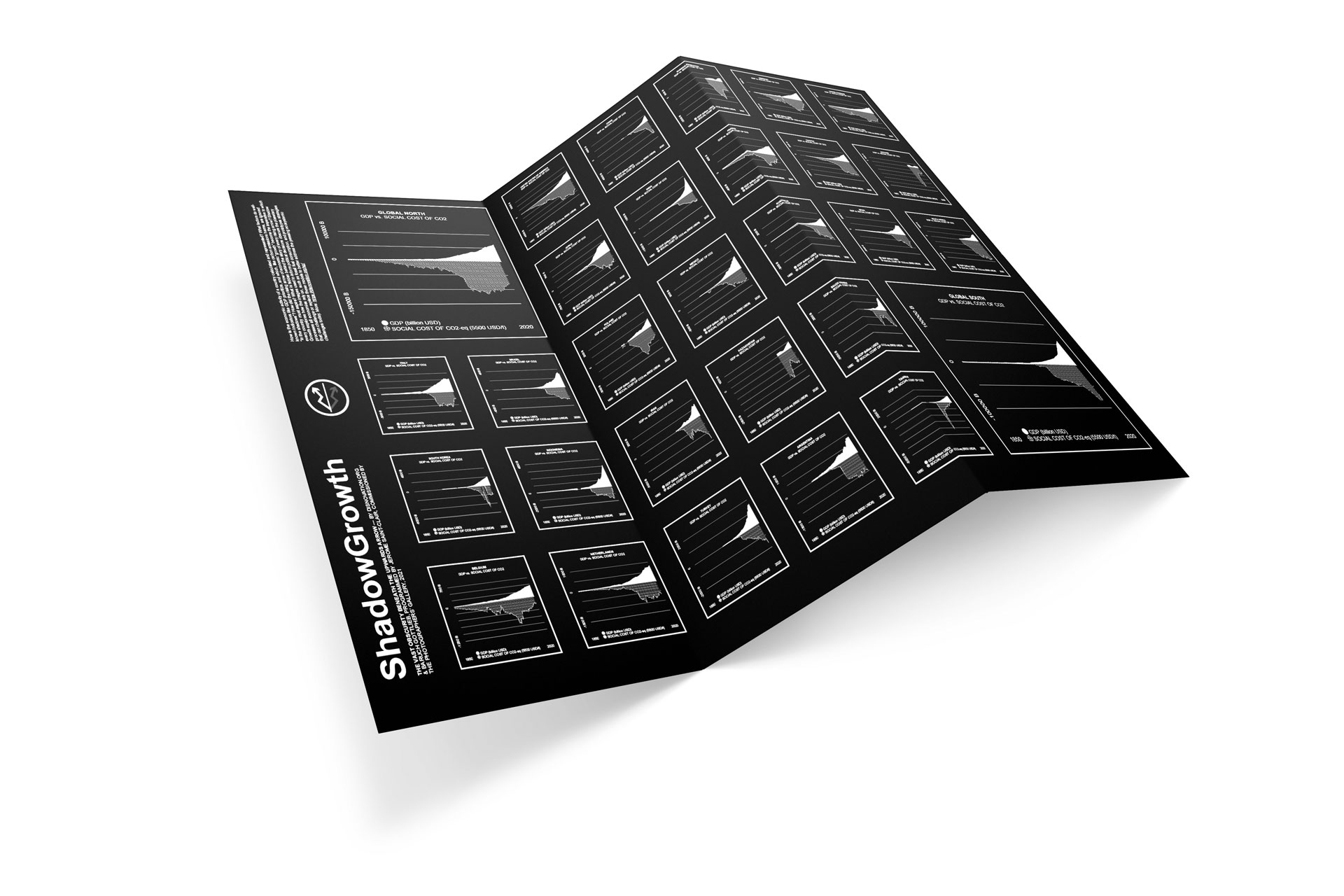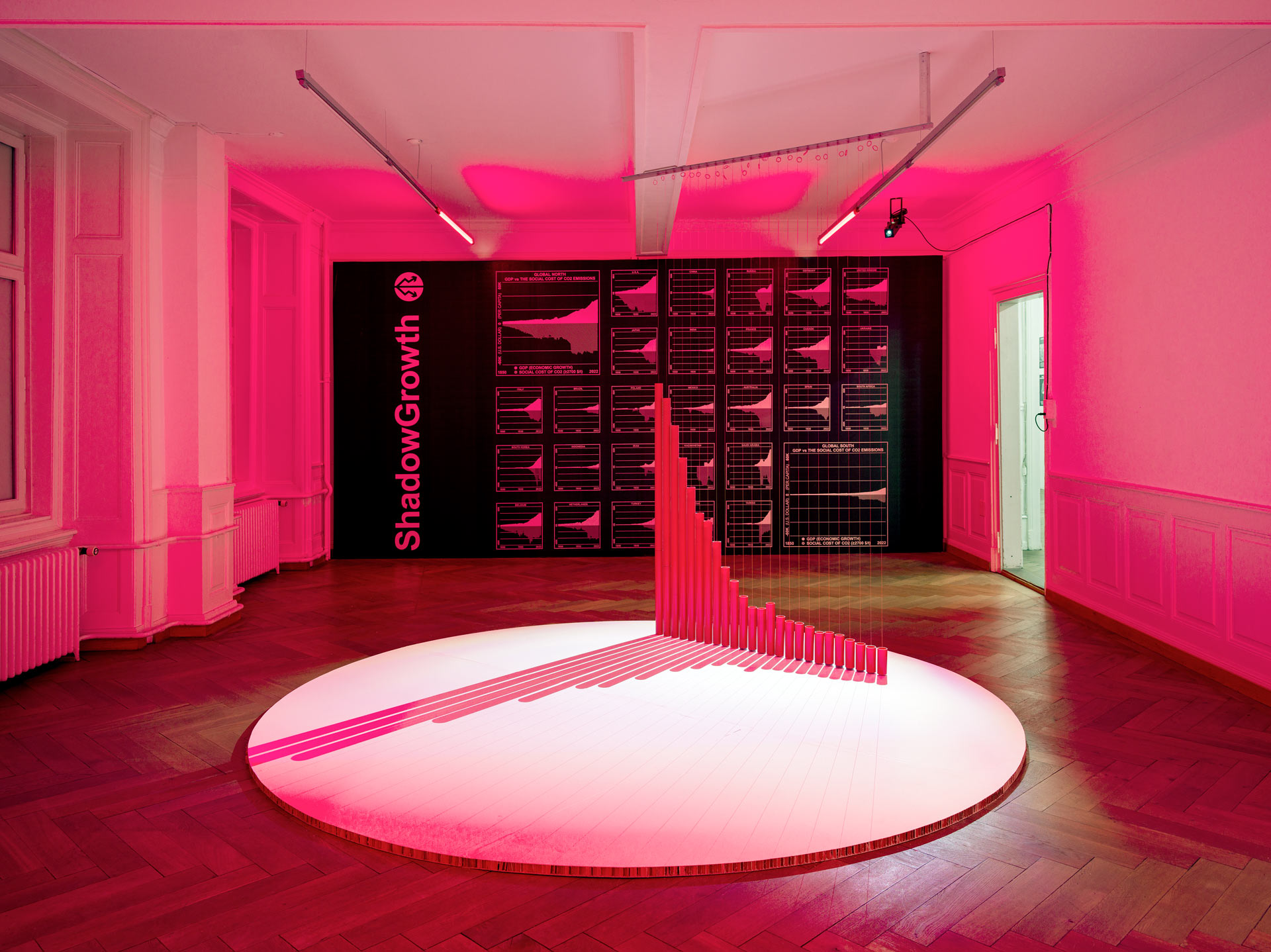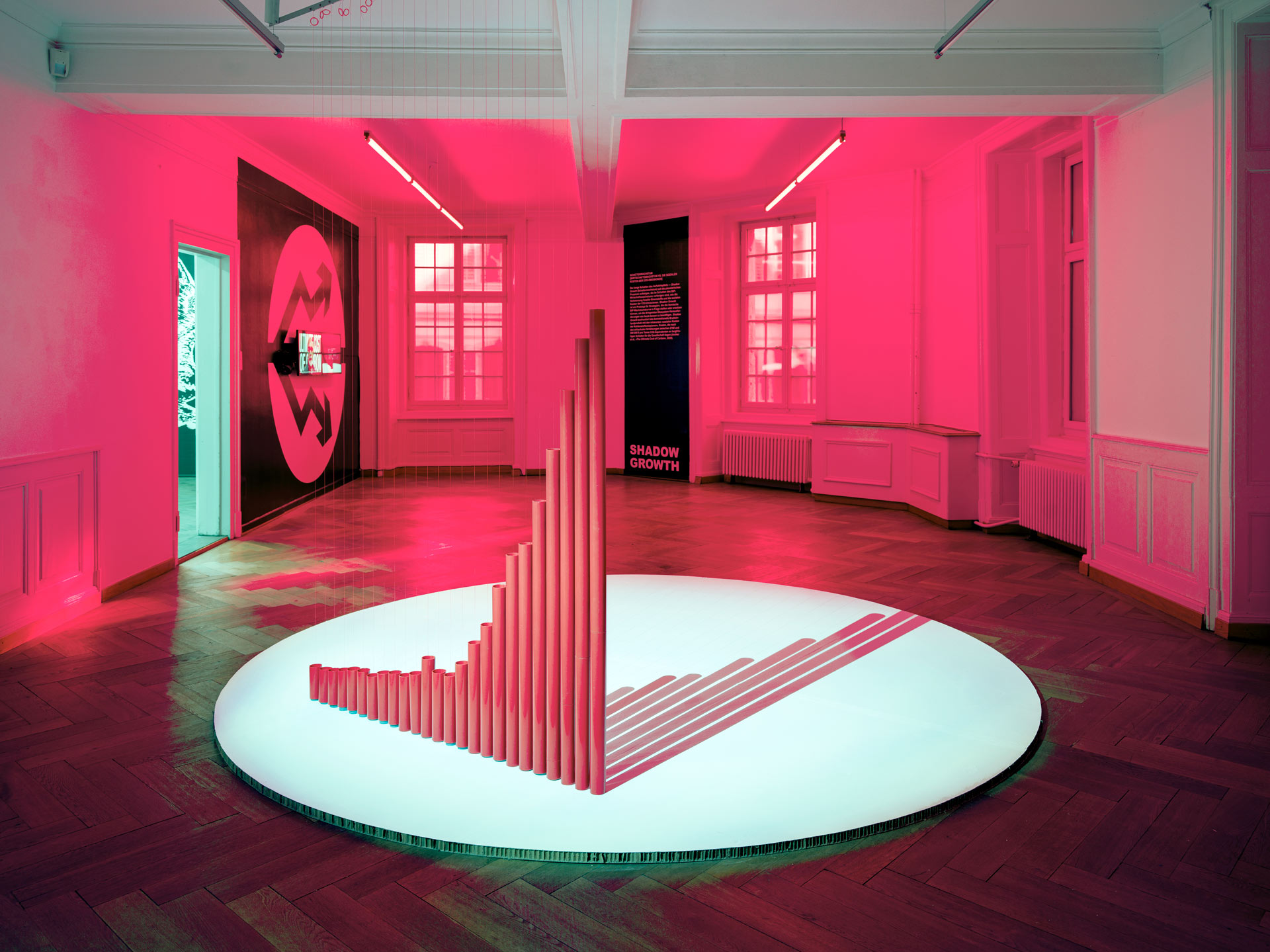 ---
SHADOW GROWTH (CONTEXT)
THE ULTIMATE COST OF CARBON. [Archer, David & Kite, Edwin & Lusk, Greg. (2020)]
Published by geophysicist David Archer and colleagues in 2020, this study reveals the truth we have known all along, that the dangers of climate change are much deeper and more profound than economic considerations would imply. Global warming will last thousands of times longer than we live, but if humans lived forever, we would consider the costs of climate change to be thousands of times worse. Getting rid of economic discounting, and accounting for uncertainties in the geophysics and (especially) the economics, the authors found ultimate costs of carbon ranging from $2.7k to $200k per ton of CO2-eq, thousands of times higher than the (discounted) social cost of carbon. Economic discounting is a fine way to describe how money flows in our society, but when you use it to find the "optimal path" for navigating climate change, it throws out any consideration of what happens to thousands of future generations.
Interviews with experts, David Archer and Gregory Lusk - DISNOVATION.ORG, 2021
---
Exhibited at:
Exhibition Gogbot, Rijksmuseum Twenthe, 2022 [NL]
Exhibition "Post-Growth" at Kunsthaus Langenthal, 2023 [CH]
Press Kit and HD Images:
Flickr
commissioned by
The Photographers' Gallery,
London (UK).